---
"Appendices I, II, III, IV, V, VI, VII, VIII." by Sir Henry (Harry) George Wakelyn Smith (1788-1860).
From: The autobiography of Lieutenant-General Sir Harry Smith, baronet of Aliwal on the Sutlej, G.C.B..
By Sir Henry (Harry) George Wakelyn Smith (1788-1860). Ed. with the addition of some supplementary chapters, by George Charles Moore Smith (1858-1940). London: J. Murray, 1903.
---
DIARY OF THE EXPEDITION TO MONTE VIDEO, ETC.
1806-7.
"E'er since reflection beam'd her light upon me
You, sir, have been my study; I have plac'd
Before mine eyes, in every light of life,
The father and the king. What weight of duty
Lay on a son from such a parent sprung,
What virtuous toil to shine with his renown,
Has been my thought by day, my dream by night:
But first and ever nearest to my heart
Was this prime duty, so to frame my conduct
Tow'rd such a father, as, were I a father,
My soul would wish to meet with from a son.
And may reproach transmit my name abhorr'd
To latest time, if ever thought was mine
Unjust to filial reverence, filial love."
MALLET.
1806. Nov. [Oct.?] 9th.–Sailed from Falmouth under convoy of His Majesty's ship Ardent (Capt. Donnelly), Unicorn frigate, Daphne, 20-guns ship, Pheasant and Charwell, Sloops-of-war, with a fleet of about 25 transports, a store-ship for the Cape of Good Hope, and a merchant ship for the East Indies. The force consists of a Company of Artillery, under Capt. Dixon; three Companies of the 2nd Battalion Rifle Regiment, under Major T. C. Gardner; 17th Light Dragoons, Col. Loyd; 40th Regiment of Foot, Col. Browne; and 87th, Col. Sir Edward Butler; the whole under Brigadier-General Sir Samuel Auchmuty. Brigadier-General the Hon. William Lumley, Brigadier of the Horse; Lieut.-Col. Bradford, Deputy Adjutant-General; Lieut.-Col. Bourke, Deputy Quartermaster-General; Captain Blake, Assistant Adjutant-General; Lt. Tylden, Brigade Major to Sir Samuel; Captain Roach, Brigade-Major to General Lumley; Mr. Baddock, Deputy Paymaster-General; Mr. Bissett, Deputy Commissary of Accompts; Mr. Redman, Deputy Inspector of Hospitals. A fine breeze until the 12th, when we were becalmed in the Bay of Biscay. Lovely weather.
13th.–A breeze sprung up which increased into a gale. Blew dreadfully hard. Sea ran mountains high. Continued until the 16th, when it gradually died away; a heavy sea still running, with the heavy rolling of the ship, sprang the main piece of our rudder. We made a signal of distress, which was instantly answered by the Commodore, who made a signal to the Charwell to come alongside us, which she did, and hailed us. She immediately sent a boat on board with her carpenter. Soon after the Unicorn came up with us. She also sent a boat on board, with a lieutenant, midshipman, and carpenter, with everything requisite to repair our rudder, which was soon done. A steady breeze until the 18th, when it again blew hard. The Daphne and a Transport with 150 men of the 40th Regiment parted convoy in the night. Still continued to blow until the 23rd, when we were becalmed. Lovely weather. Captain of the ship took an observation for the first time since at sea. Latitude 47° 35' North.
24th.–Breeze sprung up. Lat. 39° 37'. Breeze freshened. Continued until the 30th. Commodore lost a man overboard. Lovely weather. In the evening observed two large whales close to the ship. They followed us some time and greatly amused us. Lat. 32° 9'.
Nov. 1st.–At daybreak discovered land, to our great delight. It proved to be the Canary Isles. In sight of them the whole of the day. The ground appeared mountainous and barren, with an aspect bleak to a degree. Beautiful weather, with a fine breeze which soon carried us into the Trade winds. The flying-fish begin to be innumerable.
Nov. 4th.–Lat. 23°. A shark passed close under our stern.
Nov. 5th.–Lat. 21° 40'. Fine fresh breeze. The Harriet Transport, with the Artillery on board, made a signal of distress, which proved to be from the death of her captain. Flying-fish so numerous, they resemble large flocks of larks. Some of them were by accurate observation seen to fly from 100 to 200 yards and upwards.
Nov. 6th.–Lat. 18° 31'. Fine fresh breeze. In the evening an unfortunate flying-fish flew on board us, being close pursued by an enemy, which measured 8 inches from head to tail, and 9 1/2 from the extreme of each wing. Tail forked like a mackerel. Cooked him for breakfast the next morning. Every one tasted him.
Nov. 7th.–Lat. 16° 53'. Thermometer 80° in the shade. Weather very warm. Signal from Commodore for Commanding Officers of Corps. A fine turtle close to the ship. We wished for him on board. To our astonishment, although a considerable distance from land, we were in shoal water the whole of the day, supposed to be a sand-bank, the water by times being quite discoloured. Commodore, not meaning to put into any port, made a signal for the troops and seamen to be put on short allowance of water, two quarts per man, all ranks.
Nov. 8th.–Lat. 15° 19'. Therm. 84°. Scorching hot. Speared some fish at the bow of the ship.
Nov. 9th.–Lat. 15° 12'. Therm. 82°. Fine weather, but no breeze. Caught two venata with bait. They resemble a mackerel as much as possible, except that they are about twice as large. Cooked them. Coarse, hard and bad eating. A flying-fish flew on board and fell into a tub of water.
Nov. 10th.–Lat. 14° 34'; long. 23°. Therm. 83°. Pheasant, Sloop-of-war, made sail in search of land, which must be the Cape de Verd Isles. Suppose she made it, as she joined convoy in the evening.
Nov. 11th.–Lat. 12° 57'. Therm. 82°. Venata are innumerable. It is very amusing to see them leap out of the water in pursuit of the poor flying-fish.
Nov. 12th.–Lat. 10° 49'. Therm. 82°.
Nov. 13th.–At 10 a.m. every appearance of a storm. The clouds put on a terrible aspect. Fortunately it was not violent, going off with torrents of rain. Five minutes before 5 p.m. a waterspout was observed to the westward, which emptied itself in torrents over the bow of the Pheasant without intermission, until 5 minutes past 5.
Nov. 14th.–Dark cloudy weather. No observations.
Nov. 15th.–Lat. 7° 53'. Therm. 83°. A boat of the Charwell's swamped as they were about to hoist it up. All hands overboard, but saved. Went on board the Commodore with returns to the General.
Nov. 16th.–Lat. 6° 38'. Therm. 86°. Sultry close weather, with storms of thunder and lightning. Stark calm, with tremendous showers, the rain coming down in torrents, not drops
Nov. 17th.–Lat. 6° 17'. Therm. 82°. Weather less sultry with heavy showers. A large flight of birds resembling ducks ahead, so close together in the water they resemble a floating island. Loaded rifles and fired at them, but to no purpose.
Nov. 18th.–Lat. 6° 1'. Therm. 84°. No breeze. Tremendous thunderstorm, with torrents of rain.
Nov. 19th.–No observation, being cloudy dirty weather. A signal for masters of transports to go on board Commodore. A brig sent home for inattention and not obeying signals. The troops on board her were distributed on board different ships. Wrote letters home in hopes of being able to send them by her, but a breeze springing up prevented our lowering a boat, to my great disappointment.
Nov. 20th.–Lat. 4° 44'. Therm. 82°. Nice breeze but rather ahead. At 6 p.m. the Pheasant passed us under all sail. On coming alongside the Commodore she hoisted his ensign, which was immediately returned by him. It is always done when a ship parts convoy. Suppose she is sent forward to Buenos Ayres.
Nov. 21st.–Lat. 3° 45'; long. 26° 38' West. Therm. 82°. Fine breeze.
Nov. 22nd.–Lat. 3° 14'. Therm. 81°. Squally. Wind changing often and suddenly.
Nov. 23rd.–Lat. 2° 30'. Therm. 80°. Weather cool, considering how near we are to the sun.
Nov. 24th.–Lat. 1° 49'. Therm. 82°. Fine breeze but rather ahead. Evening squally. A strange sail to windward. Proved to be an American.
Nov. 25th.–Dark and cloudy. No observation. Plenty of wind.
Nov. 26th.–Lat. 15' South; long. 32° West. One of the sailors caught an immense large albacore with a spear. Took three men to haul him in. He had a curious prickly fin upon his back, which he could completely hide in a crevice so as not to be perceived, and when hurt would set it up. Sea completely covered with flying-fish. A signal made for our ship to take in tow the Three Sisters, a small brig, she being to leeward. Ran down to her and obeyed the signal.
Nov. 27th.–Lat. 1° 29'; long. 32°. Speared another large albacore, which measured 4 feet long and 2 feet 9 inches in circumference.
Nov. 28th.–Lat. 3°. Therm. 82°. Signal made by Commodore signifying land in sight, bearing south-south-west, upon which he altered his course one point more to the westward. Supposed to be the island Ferando Noronha.
Nov. 29th.–Lat. 4° 12'. Therm. 84°.
Nov. 30th.–Lat. 5° 27'; long. 34° 15'. Therm. 81°. Took in tow the Osborne, a large ship with Dragoons on board.
Dec. 1st.–Lat. 6° 39'. Therm. 82°. At 6 o'clock a.m. a signal made by Commodore signifying land in sight, supposed to be Cape Augustin.
Dec. 2nd.–Lat. 8° 20'. Therm. 82°. Have observed for these two or three days the flying-fish have almost entirely disappeared.
Dec. 3rd.–Lat. 10° 3'. Therm. 81°. The two merchant ships, the Lincoln and Loyalist, the former bound to the East Indies, the latter store-ship for the Cape of Good Hope, parted convoy. On altering their course every ship hoisted her ensign, which was returned by them by way of farewell. Had a pretty effect.
Dec. 4th.–Lat. 12° 42'. Therm. 81°. Lovely breeze. A signal for masters of transports to caulk and prepare their boats for landing.
Dec. 5th.–Lat. 15° 24'. Therm. 80°. A schooner in sight to the westward bearing down for us. Overhauled by the Charwell, and proved to be a Portuguese bound for San Salvador.
Dec. 6th.–Fresh breeze. No observation.
Dec. 7th.–Lat. 19° 26'. Therm. 82°. Observed a shark which followed the ship a long time, accompanied with three pilot fish. Threw a bait to him, upon which one of his pilot fish swam to it and tasted, and reported accordingly to its master. Observed the breeze to die away by day and blow by night.
Dec. 8th.–Lat. 20°; 8'. Therm. 86°. Dreadfully hot.
Dec. 9th.–Lat. 20° 48'; long. 39° 34'.
Dec. 10th.–Lat. 22° 5'; long. 40° 29'.–A signal from Commodore signifying land in sight, supposed at first to be Rio Janeiro, afterwards proved to be Cape Frio, about 40 miles distant from it. Therm. 85°. A tremendous thunderstorm, louder than anything I ever heard.
"Loud thunder from the distant poles ensue,
Then flashing fires the transient light renew."
Dec. 12th.–Beating all day off Cape Frio, endeavouring to get into port. Wind ahead. At 9 p.m. wind came round. Weathered Cape Frio.
Dec. 13th.–Made the bay. On the first appearance of the land it put me in mind of the following lines in Thomson's Hymn on the Seasons:–
"Should fate command me to the farthest verge
Of the green earth, to distant barbarous climes,
Rivers unknown to song; where first the sun
Gilds Indian mountains, or his setting beams
Flame on th' Atlantic Isles,'tis nought to me,
Since God is ever present, ever felt,
In the void waste as in the city full,
And where He vital spreads, there must be joy."
Appearance of the land before the entrance of the harbour, mountainous and woody. At 7 p.m. came to an anchor at the mouth of the harbour. The darkness of the night prevented our going in. The hills surrounding illuminated with the most vivid lightning I ever saw, equally beautiful as awful.

Dec. 14th.–At 12 weighed anchor. The entrance of the harbour is very grand. On the left hand is an immense rock called the Sugar-loaf, which it correctly resembles. At the foot of it is a strong battery. On the right hand is a pretty little fort, apparently very strong, having three tiers of heavy guns. At a small distance from the mouth of the harbour is a little island with a fort upon it, which gives the bay a pretty and rather romantic appearance. As soon as the Commodore came to an anchor, he fired a salute of 19 guns, which was immediately returned by the different batteries, the echo of which in the surrounding hills was beyond description grand.

General, Staff, and Commodore went on shore to call upon the Viceroy. When in the boat the Ardent fired a salute of 19 guns to them. The General obtained permission for the officers and a proportion of men to go on shore.

Dec. 15th.–Went on shore, and was highly delighted with the town of Rio Janeiro. It is very large but irregularly built, situated on a spacious and commodious bay. You land nearly opposite the Viceroy's palace, which stands on the south side of a large and regular square. You see nothing scarcely but poor slaves carrying immense loads, and friars in their cocked hats going to and from the monasteries. Their carriages resemble in some manner our single-horse chaises, but badly made and drawn by two mules. On the near one rides the charioteer, in a huge cocked hat; the off one is in the shafts. They go astonishingly quick. Saw but few horses, those small and bad. The mules are most beautiful animals, and the inhabitants tell you are much more serviceable then the horses. They are as clean about the legs as our race-horses, and full of spirit. Fowls and ducks plentiful, but rather dear. The oxen and sheep are small and bad. Pigs in abundance. Fruits of all sorts. Pines are larger than ours, but not so fine flavoured; you get them for 6d. apiece. Oranges, lemons, limes, sweet and sour, bananas, yams, etc., etc. They make no butter or cheese. They get it from England or America. The grandees, when they appear abroad, are carried in a kind of palanquin, which is borne on two negroes' shoulders. Most of these are blue, and adorned with fringes in general of the same colour. They have a velvet pillow, and above the head a kind of tester with curtains. He may either lie down or sit up. (See Guthrie.)

I must think, from what we have seen of the inhabitants, Guthrie speaks too harshly of them. They paid us every attention–nay, so much so that they were troublesome; and were honest in their dealings. The canoes afforded us great amusement. They are rowed by two or three negroes, according to the size of them–not with oars, but a thing resembling a spade. They appear, as they go along, to be digging the water.

I went into one of their monasteries, the chapel of which was very grand. There was also a capital library. The monks were extremely polite, and showed us everything particular. Their service is in Latin. There are four monasteries, and two nunneries filled with poor wretches of girls, who are not allowed to speak to their own fathers. I dined in what they call a cooking-house. The host showed us into a miserable back room looking into the kitchen, where was a black fellow cooking. My stomach was not yet turned. No glass in the window (but that is the case with all the houses, except those of the grandees), and the light shining through the pantiles over our heads. We had for dinner first some macaroni soup, half oil, and scraped cheese to eat with it; afterwards some mutton chops swimming in grease, pork chops in a similar way, a pair of fowls we could scarcely pull to pieces, not an atom of flesh on their bones. There was also a piece of thin beef rolled up with the stuffing in it and roast–a famous dish for a hungry mastiff dog. These being removed, we then had a cold plum-pudding, which was very good. We drank at dinner bad American bottled ale, afterwards some decent port wine. When we called for our bill, we were all amazingly astonished. It came to 4880–whats, we could not tell. We afterwards found it was about six dollars. They give you always their bills in that way in some imaginary coin about half a farthing value.

Dec. 16th.–Did not go on shore. At 6 p.m. a Portuguese brig came into harbour, laden with poor wretches of slaves just taken from the Guinea coast–the most horrid sight imaginable.

Dec. 17th.–Went to see a grand review of the Portuguese troops They performed pretty well. There was a regular regiment of militia, and a volunteer, with some dragoons and artillery, amounting in all to about 2000 men. After it was over, all the English officers were presented to the Viceroy. Nothing more worth setting down. All of us quite tired of the place, and anxious to get away.

Dec. 23rd.–Sailed for Buenos Ayres. Nice breeze.

Dec. 24th.–Lat. 24° 47'. Out of sight of land. Therm. 80°.

Dec. 25th.–Lat. 25° 32'. Therm. 76.° Blows hard, with a heavy sea.

Dec. 26th.–Lat. 26° 51'. Heavy swell and no breeze. An immense shoal of porpoises swimming towards the north. In hopes of a fair wind, as they always swim against the wind.

Dec. 27th.–Lat. 27° 48'. Stark calm. At 4 a.m. a strong breeze sprung up, but quite ahead.

Dec. 28th.–Lat. 27° 52'.

Dec. 29th.–Lat. 27° 29'; long. 47° 9'. Went on board the Commodore. A large shoal of porpoises by their swimming portending a fair wind, which soon sprung up.

Dec. 30th.–Lat. 30° 21.

Dec. 31st.–Lat. 32° 11. Anxious to get along, but the wind against us.

1807. Jan. 1st–Lat. 32° 30; long. 51° 15.

Jan. 2nd.–Lat. 32° 30. Wind against us.

[Remainder apparently written afterwards.]

Landed four miles north of Monte Video 16th Jan., had a sharp skirmish with the enemy.

19th.–A regular battle. Licked them confoundedly.

20th.–A very severe action. The enemy's loss very great.

3rd Feb.–Stormed the fortress of Monte Video. A severe conflict. Indeed, our loss, as well as that of the enemy, was very great.

16th Jan., 1807.244 –Sharp skirmishing with enemy.

17th.–Ditto.

18th.–Ditto.

19th.–A regular and victorious battle in the open field.

20th.–They made a sortie; were repulsed with great loss.

From the 20th Jan. to 3rd Feb. constant skirmishes. On the morning of the 3rd Feb. stormed the fortress of Monte Video with severe loss on both sides; but carried it.

7th April, 1807 [7 June?].–Colonel Pack made a sortie from Colonia with 1000 men to meet Colonel Elio, whose force consisted of 1500. Entirely routed him, and took six pieces of cannon.

3rd June [5 July 7].–Attacked Buenos Ayres by assault. Was made prisoner, and confined three days and three nights.

Embarked for England, and arrived at Falmouth 5th Nov.

1808.–Embarked at Harwich for Sweden latter end of May [April?]. Sailed soon afterwards. Was two months in Gottenburg harbour, when we sailed for England, and refitted at Portsmouth for Portugal. Landed about 30 miles north of Lisbon latter end of July [August.?]. Marched through the south of Portugal into Spain. Had a very hot action with the French between Villa Franca and Calcavellos 3rd Jan., 1809. The loss was nearly equal on both sides. Take it all together, the most severe conflict I ever saw.

Embarked at Corunna in January, and reached England soon after.

Ready to embark again.
---
SOME FAMILY LETTERS PRESERVED BY HARRY SMITH WITH PARTICULAR CARE.
Letter I. Endorsed–"7th May, 1813. From Eleanor on Stona's marriage.–H. G. S."
Whittlesea, May 7th, 1813.
MY DEAR HENRY,
From the ardent desire which you have long expressed concerning Stona's marriage, it will, I am convinced, give you pleasure to hear that the nuptials are at last solemnized. The ceremony took place on Tuesday, which was the fourth of May. Mr. Coleman was father, and of course led the bride to church. Stona, Kate, Charles, and Anna Maria followed, and my Uncle Ground's John in a handsome livery, and Stona's own servant (who is a particular smart-looking young man) dressed in a drab coat, and a gold band on his hat–all new for the occasion–attended to receive the bridesmaids' parasols at the church door, and remained there in waiting during the ceremony. When concluded, the party returned to breakfast at my Uncle Ground's, where were assembled to meet them a group of relations consisting of about two and twenty. Each of us was presented with a white favour, the ringers and servants also. There were forty favours given away. The bride and bridegroom, accompanied by Catherine, set off at twelve for Cambridge, and from thence they proceeded to London. I assure you they cut a dash. The postboy of course had a favour on his hat, and James, Stona's man, attended them on horseback as far as Ramsey. Unfortunately it was a Newmarket meeting, and Cambridge was so full that they could not get beds, were therefore obliged to proceed another stage that evening. About five the next day they arrived in the Metropolis, and when they had dined, they dressed for Covent Garden Theatre. Stona repeatedly expressed a great wish that it was possible to meet you in town. Neither the bride nor bridesmaid would, I can venture to say, have had any objection to that. Never poor fellow I think was in a greater agitation than Stona during the ceremony and two days before. When he was being married he trembled in such a manner that Anna Maria expected no other than he would drop the ring–and he was himself much afraid lest he should have fainted at the altar. . . .
I must not omit to tell you what a very pretty place Stona's house is, and so handsomely furnished that I declare it is enough to make me long to be married. . . .
We are now always changing our Curates; next week Mr. Cook is going to leave us, and that handsome gentlemanlike man, whom I mentioned to you in my last, Mr. Powis, is to take his place. The young ladies, they say, will become very religious, and many of them attend prayers.
I have, since writing the above, received a letter from you for which I thank you a thousand times. Believe me, I am not offended at the remark you made respecting my age, and the next time I hear from you, I expect the letter addressed to "Mrs. Eleanor Smith." You will, my dear Henry, be six and twenty in June.
My Mother, I am happy to say, is better than when I last wrote, though still rather delicate. My Father goes into quarters on Sunday. Wisbeach, as usual, is to be head-quarters.
Mrs. W—, I fear, has not added much to her happiness by marrying W—, for he is excessively idle, an epicure, a free drinker, and a notorious debauchee. With such a man, can any woman be truly happy? . . .
I hope you will lose no opportunity of writing, for, as I have frequently observed, it is the greatest pleasure I can have in your absence. Would to God we could have you among us. I never wished for you more than I do now. My Mother is quite delighted that you wish to see us.
As you do not say anything about Tom, I conclude he is well. Pray give my love to him, and tell him that Mary Smith245 is a pretty little black girl, and generally allowed to be more interesting than ever her sister was.
All your friends, my dear Henry, join in affectionate remembrance to you and Tom; and sincerely wishing you health and happiness, believe me to remain, dearest Henry, your truly affectionate sister,
ELEANOR.
Addressed–
Pd. 3/

Brigade-Major Smith,
2nd Light Brigade,
Light Division,
Portugal.
Letter II. Endorsed–"19th August, 1813. The last letter my dear Mother ever wrote to me. She died on the 12th December, 1813, Sunday.–H. G. Smith."
Whitta, Augst 19, 1813.
MY BELOVED CHILDN,
What words shall I find sufficiently expressive to congratulate you upon yr great escape from the great perils and dangers you have been exposed to, where so many of yr brave countrymen have fallen? But to God alone must the praise be given, who has preserved you both, I hope to be an ornament to yr country and a blessing to yr friends, and may God Almighty of his infinite mercy still hold his protecting Arm over you both, and may we never lose sight of him, and have always his goodness in our sight as never to neglect our duty for his great mercies towards us at this time and all others.
This, my dear Harry, is an anxious time, and, tho' we have not a Lettr from you, by the Gazette we know that you are safe.
As for Tom, I think he never intends to write to eithr of us again, but I am proud to hear of him from you as being so brave a fellw, and hope to have Lettrs by the next dispatches. We can make every allowance for not hearing from you at this time, as indeed you must be so much ingaged, but pray write whenever you can, and indeed it is one of my greatest comforts.
I have been very ill, so much so that I never expected seeing eithr of you again, but with the blessing of God I am a very great deal bettr, and with the kindness of yr Fathr and the attention of yr Sisrs I look forwd with the hopes of seeing my beloved boys once more under their parental roof. . . .
We have been extremely healthy for a length of time that yr Fathr and Bror make great complaints some time for want of something to do.
Poor Rd Binfield is no more. He payd the great debt of nature about three weeks ago, after being a very great sufferer. When he was taken to be buried, his Corpse was preceeded by six Girls dressed in white with white turbans, and baskets of flowers in their hands, whh they throwed into the grave as soon as the Corpse was let down. The Pall was supported by six of the schors in white Hat-bands, and the whole Schl follwd in the same way. It altogether was a pretty sight, but rathr too romantic, but you know the woman. . . .
Yr Sisr Sargant is not in very good health, and is gone to Cromer. It is upon the Norfolk coast, and is a very fashionable Bathing-place. The rest of the Family, I am happy to say, are well. As for yr dear Fathr, I think if you could see him you woud think he had grown fat. We all Unite in Love to you and Tom, with best wishes for yr healths and prosperity. Pray write soon, and may God Almighty preserve you both is the fervent prayer of yr affece Mothr,
E. SMITH.
Eleanor desires me to say she is much oblidged to you for yr Lettr and will write soon, and Betsy also says that unless Tom will write to her she never will write again.
Addressed–
Brigade-Major Smith, Light Brigade,
2nd Light Division Portugal.

Post paid to Falmouth.
Letter III. Endorsed "15th Oct. 1813. From my Father, saying my Mother was pleased with my Letter after a fight in Spain.–H. G. S."
Whittlesea, Octr 15th, 1813.
MY DR HARRY,
Your Mother receiv'd your letter the other day and myself one about a fortnight back, both of which gave us great satisfaction, particularly as you were both in good health and safe. We were in hopes as the French were so much beaten by our brave fellows, and Soult having had so good a specimen of the superior Abilities of Marshal Wellington (superior they are indeed for he is certainly the first General in the world), that he wou'd have been glad to have got hived, and not have exposed himself again to the second part of the same tune.
I was very sorry to hear of your Horse's accident, as it must be a great loss, but it was an accident and cou'd not have been prevented. My Horse I bought for you to send into Portugal has turned out very unfortunate. He has had a bad Cough on him for near a year, which continued getting worse, and I was fearful of its terminating in Glanders. Had he been quite well he was worth two hundred. However, I was under the necessity of sending Long Will to Bridge Fair, and selling him for what he wou'd fetch, which was fifteen pounds, leaving me a loser of at least £100, for I was at great expence with him
I was happy to find Capn Stewart's horse turn'd out so well, but you clapt your seal over the amount and we cou'd not read it. Send me the amount when you write again. As to news I have none, for Eleanor gives you that in all her letters.
I must say I feel hurt at Thos not writing at all. . . . I am very proud to hear so high a character of him as an adjutant. Major Percival came from Portsmouth with Bob Hotchkin to London, and seeing an Officr in the coach in 95th uniform, he asked him if he knew Capt. Smith, and he asked him which, Henry or Tom. They had a great deal of conversation, and he said he believ'd Tom to be one of the best adjutants in the service. A poor unfortunate Cripple he was. Bob was with Gen. Murray at that noble business. He came Home extremely ill indeed of Dysentery.
I am sorry to tell you poor Mr. Moore246 I think is wearing up fast. He has been severely afflicted with Rheumatism. He is better of Pain, but left so weak and low that he can scarcely ride on horseback. . . .
If any one is coming home that you can trust, I wish you wou'd send me some flower seeds, but I am in great hopes you will bring them yourself.
The Allies seem to be licking the French in Germany well, and I hope will drive them into Peace.
We one and all unite in Love and affection to self and Tom, praying God to protect you both is the prayer of your affect. Father,
JNO SMITH.
Addressed–
Brigade-Major Smith, 95th Regt Rifle Corps,
Light Division, Light Brigade.
Serving under
Marshal Wellington,
Spain.
Letter IV. Endorsed–"14th Decr, 1813. My dear Father's Letter announcing my poor Mother's Death.–H. G. S."
Whittlesea, Decr 14th, 1813.
We have received, my Dr Harry, your letter dated Sante Pe, Novr 14th, and it was read by myself, your Dr Mother, Brothers, and Sisters with infinite pleasure in finding you were both unhurt, and with gratitude to the Almighty for the preservation of you both in this and in every other danger you have so often been expos'd to.
But, my Dr Boys, what pain, what affliction is it to me to tell you it is the last letter your poor dear Mother will ever hear or read more from you.
You have been apprised of her ill health by your Sister Eleanr, and we did not wish to distress your feelings by repeatedly telling you the ill state of her health, for we were in hopes she might have got well again. But alas! her Dr soul quited this earthly abode on Sunday morning, Decr 12th, in hopes of a joyful resurrection, which her pious, virtuous, good life entitled her to hope for in her blessed Lord and Redeemer. Oh Harry! she prayed constantly for the return and welfare of you both; she suffer'd much in anxiety; she dearly, very dearly lov'd you and adored you, and in her last prayers never lost sight of her dear Boys abroad. She died in her perfect senses even to the last moment. I hope she did not suffer very much in the separation of soul and body. . . . Your poor distrest father, Brothers and sisters all unite in the strongest love and affection for you both. God Bless you.
JNO SMITH.
Send a proper direction. Pray write to me on the Receipt of this.
Remember, my Dr Boys, that this letter is equally addrest to you both by your very much afflicted Parent.
Addressed–
Brig-Major Smith,
Light Brigade,
Light Division,
Commanded by Col. Colborne,
Serving under Marq. Wellington,
France.
Letter V. Endorsed–"19th Febry, 1814, after my poor mother's death, from my sister Eleanor.–H. G. S."
Whittlesea, Febry 19th, 1814.
MY DEAREST HENRY,
I received your melancholy and affectionate letter on the seventeenth, and only waited to answer it until we could purchase a pair of Wild Ducks to send with it to Mr. Angelo, who has very politely offered at any time to forward our letters abroad. Heaven has indeed, my dear Brother, thought proper to lay upon us a most heavy affliction; every day proves to us the severity of our loss and the inestimable value of her who is gone. You have indeed, my poor Henry, lost your best friend. Never parent more truly loved a child than she did you. Never shall I forget her the last time she read a letter from you. When I went in, she raised her languid face from the pillow, and holding up the letter to me, said with a heavenly smile, "I am quite purely [i.e. well] to-day, my love, for I have had such a delightful cordial"–meaning your letter. I have witnessed two deaths and heard of many, but never such a one as our angel mother's. For two months before her death, she was not able to walk upstairs, but was carried up and down every day, and laid upon a sopha in the dining-room. On the 10th of December,247 she was so much worse, that we requested her not to leave her bed, but she earnestly begged to be brought downstairs, and as soon as she had recovered a little from the fatigue of being dressed and removed, she told us that she felt her end approaching, and summoning my grandmama, my aunts, and all her children around her, she took a long and affectionate farewell of every one separately with as much calmness and composure as if she was only going a short journey. With my father she requested to be left alone, and continued talking with him for a considerable time. She lamented greatly that she could not see her other three boys, and wept when she left you her blessing. All the day she spent in dozing, praying, and speaking peace and comfort to her afflicted husband and children. Frequently she held up her hands to look at her poor black nails, and would often request my father and brother to feel her pulse, and begged they would tell her if it did not get lower every time. She mentioned every particular respecting the disposal of her clothes, and gave orders about being laid out and for her funeral, and turning to my father, meekly said, "If not too much expense, I should like a vault." Oh, Henry, what a day was that! To describe our feelings is impossible, but from your own on receiving the intelligence of her death, you may form some idea of ours who witnessed it. It was some consolation to us that she did not die below. She loved to be carried upstairs. My father lay by her side all night, and from her calm and comfortable slumbers was in hopes she would awaken rather better. But when she awoke, she complained of being in a little pain, which did not continue long. In about an hour after, with her hands clasped in prayer, she breathed her last. Who, who beheld such a scene as this could refrain from exclaiming, "May I die the death of the righteous, and may my last end be like hers!" The highest respect we can pay to her ever-lamented memory is to aim, my dear Henry, at her perfection, that by a virtuous life here, we may be re-united to her in Heaven. My poor Father is better than he was, but still continues to feel his loss greatly, as do we all. But the conviction of the eternal happiness of her for whom our tears flow blunts the edge of our affliction. Our loss is most assuredly her gain. It is for ourselves that we lament, and selfish indeed should we be to wish for her return. Elizabeth is my father's housekeeper, and Anna Maria and her, by their attention to him, endeavour to assuage the bitterness of his regret. Charles, by his own wish and the request of his dear departed mother, is under the tuition of my Uncle Davie, who performs to the uttermost–nay, I must say, exceeds the extent of his promise, a convincing proof of his regard for her to whom he made it. Charles neither boards nor sleeps in our house. At least, he does not breakfast or dine with us, but he always comes in at eleven for some refreshment, drinks tea, and sups with us constantly every evening, and on Sunday we have his company all day. He is a very amiable, promising youth, and I cannot speak too highly of my aunt and uncle's kindness to him, nor of his gratitude to them. Sam, by his own choice, is to be a surgeon and apothecary, and by his good talents and attention has gained the approbation of his father and brother. He is a very respectable English scholar, and might have been a good Latin one if Mr. Binfield had taught him properly, but by experience it is proved that, though Mr. B. may understand that language himself, he is incapable of teaching it to others. An opportunity has, however, presented itself for Sam learning Latin in perfection, if he will be but diligent. Mr. Pratt, our new curate, is allowed to be a classical scholar of considerable eminence, and he has promised to instruct Sam. . . . Since my father was in practice, he never had so little business as he has had for these last two years. It is the general remark, that such a healthy time or so long a continuance was never remembered. I was concerned to see your friend Captain Eeles' name in the list of wounded at the late Engagement in Holland. I sincerely hope that the war is nearly at an end, and that we may again meet, though the late melancholy change in our family will render it both a happy and painful meeting But you must be confident that you have still many friends left, who dearly love you, and believe me, no one better than myself. . . . All your friends, my dear Henry, join in affectionate remembrance to yourself and Tom, and believe me to remain if possible more than ever
Your truly affectionate Sister,
ELEANOR MOORE SMITH.
Letter VI. Endorsed–"13th July, 1815. From my Father after Waterloo, thanking God he had three sons unhurt.–H. G. S."
Whittlesea, July 13, 1815.
MY DR HARRY,
Never did I receive two Letters with such pleasure as your two last since the fight at Waterloo. For three of you to have been engag'd and to come off unhurt, must have been not the fate of chance, but Providence seem'd to have watch'd over you all and protected you. How grateful we all ought to be to the Almighty. I assure you my Prayers have ever been offered up to the Throne of Grace, praying for the Protection of you all, and a safe return to England. This has been one of the most glorious, and most decisive, Battles that has been fought this War. What a shocking sight to see the Gazette, it contain'd full four Columns and a half of kill'd and wounded, and amongst them so many Names I had so often heard spoke of. Poor Major Bringhurst is among the kill'd, an only Son, and his poor father almost broken hearted.
Poor Mr. Moore is at my house, broken-hearted, and a most distrest object in Health. . . .
Poor Sudbury is dead, he has been a poor creature for many Weeks. . . .
Your Mare was put to Cervantes, a Horse of Ld Fitzwilliam's; she is very well, and lying in my Wash ground with my Mare and foal, I think the handsomest I ever saw. I am sorry to hear Charles' Mare is like to have bad feet; if so, the sooner she is disposed of, the better. Tell Tom and Charles I expected to have heard from them long ago.
Give my Love to your Wife and tell her how much I felt for her, before I heard of your fate, well knowing that she must have been dreadfully alarm'd.
Your blood Mare is worth, Buckle tells me, a great deal of Money. Her Dam is dead, and they have sent to him for her to Newmarket to breed from.
Your sisters have told all the News, therefore I conclude with my Love to your Wife and Brothers join'd with all at home
I am your affect. father,
J. SMITH
Write soon.
Addressed–
Major Smith,
95th Regt of Rifles,
Serving under the
Duke of Wellington,
France.
Letter VII. Endorsed–"31st Decr, 1816. My Father's Letter announcing the death of my good Grandmother, 83 years old.– H. G. Smith, Col."
Whittlesea, Decr 31st, 1816.
MY DR HARRY,
After a very short tho' not painful illness, your poor old Grandmother paid the last debt of nature in the 83rd yr of her Age. During the whole of the time she lay on her deathbed she retained her senses, and died calm and reposed, a Blessing which God grant we may all do in the same manner as she did, a Pattern of true Piety and Benevolence. The changes in our family have within these last seven yrs been great, and one of them painful and very distressing to me, having lost that Companion whose Conduct endeared her to every one who at all knew her, and, that being the case, how much more so must I have felt her Loss! But these are trials we must all expect to meet with, and let none of us in our gay moments forget how soon the case may be our own. . . .
I find the House is to be sold, but times are so bad here now that no one has got any money to purchase, however desirable they may be. I hope if Charles and his Lady shou'd marry, they may become the Purchasers. . . .
Since the Death of poor old Jack, I have lost my Uria Mare, which I was obliged to have shot. I afterwards bought a fine big Horse five yrs old, one I expected wou'd have proved valuable After keeping him about ten Weeks he made his exit as rotten as a Hare, so you see I am one of those unfortunate Beings in the Horse way. I must now be satisfied with my little Mare and my good old Gig Horse; when you are tired of your bay Mare, forget not she is a particular favourite of mine. . . .
Remember me most kindly to all my friends, particularly Col. Achmuty, Bell, and my old friend St. John.
Tell Charles we have not written to him as you wou'd be able to tell him every particular. I hope his Mare turns out well and that he is able to hunt her. How are all your Horses? I hope you have had good hunting; it has been very wet here, and very heavy riding. I suppose the same with you.
Give my Love to Juana, and tell her the whole of her Brothers and Sisters do also.
I remain,
My Dr Harry,
Your affect. father,
JNO SMITH.
Addressed–
Post pd.

Lieut.-Col. Smith,
Rifle Brigade,
Town Major,
Cambray,
France.
Letter VIII. Endorsed–"18th March, 1822. Eleanor as to the Genealogy of my Mother's family.–H. G. S."
Whittlesey, March 18th, 1822.
MY DEAR HARRY,
. . . You have desired me to collect for you all the information I can of the Moore family, but that is very little. My good grandfather Moore always used to say that he was descended from that great though unfortunate man Sir Thomas Moore, who was beheaded in the reign of Henry the eighth. Alice always says that she is sure we are descendants, the arms are undoubtedly the same. When my poor Mother was very young, my aunt Stona told her that she was descended from no mean family, and to prove it unfurled a genealogical table which reached half over the room, but my Mother was then so young that she never could recollect much about it. She used to say that she remembered seeing a number of Gabriel Moores. This table I am sorry to say was destroyed during the riots in London. At that time my aunt Stona lived in London and lost a great many valuable things. Our great great grandfather was the first of the Moores who lived in Whittlesey, and he was an Attorney and came out of Buckinghamshire.
. . . I must now say farewell, and with kindest love to yourself and Juana, believe me, dear Harry, to remain your truly affectionate sister,
ELEANOR MOORE SMITH.
Addressed–
Lieut.-Colonel Smith,
Rifle Brigade,
Glasgow,
Scotland.
[See Appendix VIII., p. 794.]
Letter IX. Endorsed–"2nd Sepr, reporting the death of my poor and venerable Father, 2nd Sep. 1843, 1/4 before five o'clock in the Morning; recd at Cawnpore 31st Octbr, 1843.–H. G. S."
Whittlesea, Sepr 2, 1843.
MY DEAREST HARRY,
. . . Our beloved father breathed his last this morning at 1/4 before 5 o'clock. . . .
About three weeks ago Charles perceived an evident alteration in his appearance. He became ill in health that week, and on Wednesday, Augst 16th, he took to his bed. His poor mind was in a most distressed state and his terrors extreme. Unable to bear the suspense, Anna Maria and myself set off for Whittlesea, Saturday, Augst 19th. Eleanor had come to Charles's from Northampton a few days before, and on the Monday morning as we got to W. on the Sunday Tom arrived. We found our poor father very ill, but certainly not like immediate dissolution, tho' his state was very precarious. We tried to rouse him to recollection and to soothe him, and oh, blessed be the Almighty for the mercy, we so far succeeded as to be convinced that we restored him to happiness and peace. Tho' not able to retain recollection of us for many minutes together, he was ever conscious that his children were about him; he blessed us, recognized us, asked us to pray for him, to repeat the Lord's Prayer, and one day he told us he had hope, that God was a God of mercy. He never uttered indeed two connected sentences, and he rambled incessantly, but the character of his ramblings was altered–bits of hymns, parts of the Psalms, exclamations to the Deity took the place of cries of terror, etc. He was happy–our voices reached him and soothed him, and he would reward us with a word or a look of love. He would lie in bed and amuse himself with fancied dressings of himself, talk of driving, etc., entreat to get out of bed, and would sit a few minutes in his chair. On this day week we got him out of bed, when his happiness was beautiful, but oh, the heartrending appearance he made! He was literally a skeleton; he had not an ounce of flesh on his whole body, he was a breathing death. He knew us all, smiled on each (the four daughters and Charles), dressed himself in imagination for a walk and a drive, tied his handkerchief on his neck, and when he had fidgetted away the blanket in which he was wrapt, and I put a light chair cushion in his lap, saying, "It is cold, we must pull up the apron of the gig," he smiled and said, "What fun it is!" After a little while he asked to go home; we laid him in bed and thought he was dying. It was, however, but exhaustion, and he rallied again, but he was never more so rational as this.
Oh, Harry, all my desire now was to gain something for you. I tried him, asked him if he recollected you, spoke the name "Harry" in a marked manner, and oh, Harry, you will thank me for this–at length he said, "Harry, yes, God bless him." I had touched the string. Some time after he addressed a set speech (made of broken sentences) to Col. Smith, in which he said he "thanked"–"noble deeds"–"to be praised"–and much more that could not be gathered; but this was enough, his darling son was not forgotten. He spoke much of William, always saying, "William, I am coming," and once he said, "Stop, Stona–I'll go with you." He took decided notice of Anna Maria, but he held all our hands as we sat by him, and would stroke them and take them to his cheek, and even to his lips and kiss them. When he awoke in tears and we spoke to him, it vanished and he became calm; and even when we prayed by his side, if we told him not to interrupt us, he would become quiet, seem to catch some sentences, become soothed and fall asleep. The last three days he became very ill and the pains of death racked him greatly, and it was very sad to see his sufferings. He was dying all yesterday and all the night, and oh, what an awful night we passed by his bedside! He appeared to suffer a good deal from convulsive affection of the muscles, but the strength of his constitution was really wonderful It was a hard struggle indeed for the victory. After many hours' most laboured breathing, he became gradually lower and lower, and at length with one sigh, one struggle, one effort, he breathed his last at 1/4 before 5 o'clock this morning, Sept. 2nd, having reached the great age of 87. We mean to lay him beside our beloved mother on Wednesday afternoon. . . .
I must close my letter, praying God to bless and comfort you, and grant that hereafter we may all meet in Heaven and there form one happy family again. . . . Kind love to you both from all.
Believe me your fond sister and friend,
J. A. SARGANT.
---
MEMORANDUM ADDRESSED TO SIR B. D'URBAN ON THE DIET AND TREATMENT OF SOLDIERS IN CONFINEMENT.248
D.Q.M. General's Office,
Cape Castle, [2 June?] 1834.
Your Excellency having been pleased to submit for my perusal various documents relative to a scale of diet fixed by a Board of Officers, of which the Hon. Colonel Wade, now Commandant of the Garrison of Cape Town, was President, directing me to return them with any remarks which my experience of five years as Commandant of that garrison may enable me to afford, I beg to observe.
* * * * * *
There are several officers under whom I have served whose example I have ever endeavoured to imitate. The most conspicuous of them are Sir Sydney Beckwith, Sir A. Barnard, and Sir J. Colborne. The leading principle by which these officers of distinction were actuated was that of kindness to their soldiers, and an endeavour to maintain discipline by seeking out the meritorious to reward and commend rather than the guilty to punish.
For the attainment of discipline and good order two modes are to be adopted, encouragement and punishment. Towards well-disposed men, the first is always preferable; the latter, however, must be appealed to, but I have ever found great severity in punishment less calculated to maintain discipline than a mild administration of the great power Military Law vests in the hands of those in command.
In the study of my profession, to no branch of it have I paid greater attention than to the prevention of crime and to the reform of the ill-conducted, and the results of some years' experience enable me to affirm that it ought to be the duty of all officers, in the first place, to endeavour by wise and salutary regulations to render every one under their command happy. Cheerfulness is the mainspring of discipline, and the desire to reward merit while crime is held in execration, ought ever to be the delight of the officer. And although for acts of disobedience and insubordination, or neglect of duty, I would, as I have done in this garrison, inflict corporal punishment to the utmost of my power, not only to punish the offender, but to strike terror into the hearts of the spectators in the ranks, for more moderate crimes, to see a fellow creature, a comrade, dragging on a miserable existence from week to week, nay, month to month, in a solitary cell, or expected to be capable of daily labour and occasionally to attend drills on bread, rice, and water, his bed a watchcoat, affording no public example, is a species of protracted cruelty I am as yet not prepared to inflict.
Confinement or the loss of liberty for a long period is in my mind, under the most modified circumstances, a punishment severe indeed. During the period I was Commandant, I made it a point to visit the prisoners (whenever there were any) every Sunday, and the surgeon of the week did the same during the week. I had written me a report to that effect. My object was to see that they were in every respect as clean as the meritorious soldier at duty, to ascertain that their rations had been according to the scale hung up with my signature in their cells, duly furnished them, and of a good quality, and by conversation with them and pointing out the impropriety of their conduct to ascertain their character. Many sentenced for a long period I have taught to read and write; in the case of others, what little knowledge they possessed I have improved by lending them books, etc., and in the proportion of ninety-nine in a hundred has my kindness been attended by the most beneficial results. Some whose conduct in prison was particularly good, and whose previous character was not heinous, I have remitted several weeks' confinement, ordering them to report to me every Sunday, "My conduct has been good." In no individual instance, to the best of my recollection, has this leniency been abused, and I will mention that in no garrison in His Majesty's dominions was heinous crime less frequent than in the garrison of Cape Town whilst under my command.
No man is so degraded as not to be susceptible of kindness, and no man so much requires a friend as he who has none even in himself. Many is the vicious character I have reformed as captain of a company by conduct of this sort, re-establishing a man in his own good opinion and in that of his comrades. The want of a point d'appui in distress has been the ruin of many an individual, both civil and military, and in my estimation the morale amongst the soldiers tends far more to attain discipline and happiness than the severe administration of rigid justice. There are many of my brother officers, I am aware, who differ very materially with me in this opinion, but, as practise makes [perfect], I maintain that my system is the best, which, when combined with a vigour of action in all military points, excites emulation in both officers and soldiers and induces them to look up to their commander as their friend.
* * * * * *
The Royal Warrant now provides the sum of sixpence per diem for the maintenance of prisoners without any reference to "bread and water," to ensure them being furnished with wholesome and sufficient food. I cannot, therefore, for a moment conceive that reflection would put a construction upon my prison-regulations as positively contrary to the Royal Warrant.
Not only by inclination and predilection am I in all military acts guided by the practice in the Light Division of the Duke's army, but [in this case] by Lord Hill's circular letter bearing date 24th June, 1830.
My reasons, therefore, for submitting the scale of provisions I drew up to the approval of Sir Lowry were–
(1) The practice in the Duke of Wellington's army.
(2) The practice of the Light Division, ever construing all orders and regulations to the benefit of the soldier.
(3) The Royal Warrant.
Although I very much differ in opinion from the Board as to the scale they have fixed, I approve very highly of a distinction being made between the diet of prisoners sentenced for long and short periods.
H. G. SMITH.
---
EXTRACTS FROM HARRY SMITH'S LETTERS TO HIS WIFE DURING THE KAFIR WAR, 1835.
Grahamstown, 30th Jan. 1835.
The Kafirs, from the manner in which I occupied all the passes in their rear, had been beautifully harassed, and now fly from the sight of one of our people as rapidly as they flew towards him until I stirred them up a little in their own country. So you recommend shrapnel, grape, howitzers, shells! Well done! We will take your advice: for old Johnstone 249 says true, you are the best general he knows. I am sadly off for officers and assistants in my office. Selkirk Stewart would be to me worth all the clerks in my office, and old Johnstone all the officers I have in the field, Cox excepted. The quantity I have to write and to do is really incredible, and you know how quick I can get through my work. The people here are astonished. But I have eased my labours very much by establishing boards of gentlemen of the place and officers, one of clergymen for the destitute families, one to receive the claims of all persons whose property has been seized for military purposes, one to inquire into the burgher force, a clothing board for the burghers, a labour heretofore beyond even me. All these boards submit their proceedings to me. I approve or disapprove, and act as supreme. Even thus, much of my time is occupied; but it has reduced my labours much.
Bivouac between Fish and Keiskamma rivers,
close to Mount Somerset, 13th Feb.
Viva Enrique!
MI QUERIDISSIMA MUGER,250
I have been in the field since Saturday last, sleeping in the bush, never better. Was on horseback yesterday 28 hours, attacked the Kafirs in five points like fun, gave them a good licking with a trifling loss on our parts; seventy-three killed, counted on the field, lots of wounded. Took 2500 head of cattle, goats, sheep, etc.; gave them some of your shrapnel shells, but want a few of my old Riflemen, although all my fellows are willing enough and full of fight. Do not be afraid of Enrique. He takes good care of himself, and never moves without 30 Cape Rifles as an escort.
A shocking accident occurred the night before last. The 72nd and other troops lay in position waiting for daylight to attack; though every precaution was taken and there was no fault, some one cried out, "The Kafirs!" and the men jumped up and fired on each other before the officers could speak. Three men were killed, and more desperately wounded. This rather hindered my operations, because it alarmed the enemy. However, thank God, I have done as much as I expected.
You cannot think how well I am. Nothing fatigues me, and although my force is only 1200 men and 800 horses with four guns, yet my operations are over an extent of 4000 square miles of country. We were marching from 7 o'clock the 11th till 8 o'clock the 12th. No one tired. This morning we want nothing but some grog, which I momentarily expect. God bless you, old woman, and do not be afraid. Our God will take care of us both. Adios, alma mia.
ENRIQUE.
Grahamstown, 26th and 27th Feb. 1835.
My Fish River trip was a very lucky one, and has had a great effect on all the Kafirs. It is reported and believed that they are all flying into Hintza's country. He is a very powerful chief who has been wavering in his policy towards us. He is, I believe, at the bottom friendly, although he wishes to keep as much of the stolen cattle as he possibly can. It is decided that the 75th Regt. remain on the usual frontier line, and that the 72nd all go into Kafirland. The former are as much mortified as the latter are delighted. To-day I go to Hermanus Kraal, next day near to Fort Willshire to select a camp for our invading force to assemble on. We are to select the most effective men of the Burgher force, and send the remainder to the second line. The Chief is now all for invasion. Paddy Balfour will be my A.D.C.
I should like you to see me with my escort, a trumpeter, a sergeant, two corporals, and six fine fellows of the Cape Corps, five led horses, Guides (a corps all well mounted), etc., and generally five or six smart young fellows of volunteers; but I would give all the pomp and glory of war for one quiet evening with mi vida at Charlie's Hope,251 though I am now writing by a nice little wood fire, as comfortable as can be when away from my beautiful wife. You are in no danger, alma mia, of being supplanted here. This is the most dull, stupid, and horrid place on earth, celebrated for the most ugly of the fair sex.
I have just been to inspect three detachments of Burghers. I will give you a detail. One consists of 62 fighting men and horses, 50 non-combatants, 28 waggons. Another of 118 fighting men and horses, 80 non-combatants, 36 waggons. Only conceive what an army, and every individual wants something, either shoes, shirts, bridle, saddle. It is perfectly ridiculous, but yet when the poor fellows thus dragged from their homes are in the field, they are good-humoured and willing and shoot well enough. Oh! my old woman, glory is a fine thing, domestic quiet is better. It was well enough when I was at the head, but now second fiddle is slow. I am lazy and forget when things do not fly like lightning.
All our own country is free from Kafirs, much more so than in times of actual peace; still every post the postmaster comes to me for escorts. To-day I blew him up and called him an ass. The panic with which the people were seized here will not wear off for years. Had twenty Kafirs shown themselves in the neighbourhood of Grahamstown a day or two before my arrival, all would have either run away or shot one another. What amuses me much just now, is that those who funked the most formerly are the most valiant now that the danger is dispelled.
In two months I will, with God's blessing, be with my dear old wife to talk over my labours, which Heaven knows have been heavy enough. I have gained credit for two things–one, licking the Kafirs; another, blowing up the lazy idle rascals who will neither work, fight, nor do anything but draw rations.
So you are a schoolmistress? Mind teach the young ones to sew and work. It will do them more good than to read and write.
Love to all, and the sum total of all my love, affection, regard, esteem, everything that is dear, to you, alma mia.
ENRIQUE.
5 o'clock, 27 Feb.
When once I am in the field, I will work in my own way. Master is always floundering in the midst of information, whilst I like to take a look at the ground, march, and take possession. Thank God, I have been heretofore very lucky indeed. Do you recollect poor Thompson saying, when the ants were swarming in the house, "Oh, sir, it is great luck, great promotion for you somewhere"? It is very ridiculous, but I often think of it.
I long to march, although I well see I shall have all the trouble of war and marches without the all-stirring spirit of War. Ah, Venus and Mars! Enough of the latter. I begin to think a quiet life of Darby and Joan very agreeable. The fact is, it is better fun to be together as heretofore: only this is such a naked country. At Genadendal there was one pair of breeks between three boys, but here neither boys nor girls nor women have breeks or sarks either.
I have been writing all day, still it is with much delight I keep on writing to you, alma mia . . .
God bless my dearest virtuous wife.
ENRIQUE.
Grahamstown, 6th March, 1835.
Thank God, my dearest old woman, you are well . . . Tomorrow the troops commence their march upon the base of our future operations between Fort Willshire and the Block Drift or the line of the Chumie, which runs into the Keiskamma near the Fort. I went up there last Saturday and had a beautiful ride of three days, doing everything I had to do and returning a day and a half sooner than I was expected. It is really wonderful how I bear work. I spread my karosse and lie down with my saddlebags under my head, and after thanking my God and blessing my dear old woman, am asleep in a moment. The bivouac we are going to is really one of the most beautiful things I ever saw, and, thanks to the late rains, the grass everywhere is up to the horses' fetlocks. To-morrow I start with my escort–my corps of Guides, my led horses, my interpreters, my secretaries. How you would laugh to see such a motley group!
So I am to take care they do not shoot at me from the Bush? That story about old Jem 252 and me was founded on very little truth. In the middle of my Fish River fight, just as Jem was cooking some coffee and I was writing, when we were surrounded by soldiers, three shots were fired at the whole. I certainly jumped up and rattled the impudent rascals "out of that" pretty quick; but, old girl, I am too much of a Rifleman to be caught napping without every precaution of war. But they do put such trash in the papers occasionally, it is quite amusing.
Camp near Fort Willshire, 12th March.
I wish you could see me, because then, you know, I could see you. It is very delightful to unbend and not act always the great man, although I assure you we laugh in camp sometimes famously. I almost kill Hallifax at some of my roar-outs to the soldiers. Yesterday morning, just before daylight in Fort Willshire, I desired his bugler to blow the "rouse," which you well remember. He said he did not know it. "D— you, sir, blow something." So he blew up a quadrille, and I began to dance. I thought Hallifax would have laughed till he died. What a burlesque upon our school of war!
Grahamstown, 16th March, 1835.
When I came flying down from Fort Willshire the other day it was, as you may suppose, for the purpose of inducing my master to get under weigh and not to mind a Kafir and a half, which Col. Somerset's arrangements with nearly 3000 men were going to catch. Master and I very nearly fell out. In his string of operations in last week's paper, signed by Kitty Dutton, my attack on the enemy's position was left out. After some little jaw, he said he thought it too bold a thing to attempt with the force under my command, so I bristled up and said, "Rely upon it, whenever I hear of a Kafir, so soon will I be at him with whatever force I can collect. This is the way to treat so contemptible an enemy, although too much caution cannot be adopted to prevent a surprise, or too much activity used in following up any advantage obtained. This, sir, is my maxim, and one which shall guide me throughout the campaign." "Oh, it is a very proper feeling, but discretion is also to be observed."
I have at last spurred him into a move, and I hope we shall get on and bring things to a close, for I am really tired of this slow work. I want to be at Charlie's Hope again.
17th March.
The 72nd Regiment marched yesterday for the camp at Fort Willshire, and the whole of the troops will be in motion, I hope, to-morrow to concentrate. Sir Benjamin has given out a General Order appointing me to command the 1st Division.
1st Division: 100 of the Cape Corps, 40 Corps of Guides, two 6-pounders, 300 Swellendam Burghers, the whole of the 72nd Regiment, the 1st Provisional Battalion of Hottentots, 430 strong. Officered by H. Peddie.
2nd Division, 2 guns, 750 Burghers, 200 Cape Corps, Lieut.-Col. Somerset.
3rd Division: 250 Burghers, 50 Cape Corps, two 3-pounders, 2nd Provisional Battalion, 374 strong (an excellent body of men), Major Cox.
4th Division: 500 Burghers, Field Commandant Van Wyk.
The troops will thus advance–
| | | | |
| --- | --- | --- | --- |
| Left | Left-Centre. | Centre. | Right. |
| Van Wyk. | Major Cox. | Me myself and Sir Slow as far as he goes. | Col. Somerset. |
Lieut.-Col. England is to command the ordinary Frontier Posts and Grahamstown and has 1800 men, just 100 more than I had when I took the command here, re-established villages and posts which had been so shamefully abandoned, and invaded Kafirland with 450 men, so that I think the end line may be considered safe and no necessity for any panic. But really it is astonishing to see how they funk.
His Excellency has just sent for me, good old man, to say he is not pleased with his General Order of yesterday appointing me to the command of the Division. He says it cramps my power, so he has put in orders that I am to be second in command, continuing my duties as Chief of the Staff, by which means I can order everybody about like himself. It also gives old Peddie a command, which I am very glad of.
18th March.
In this stupid little room in which I am writing, I think rather too much of an old faithful woman at Charlie's Hope, but as I hope soon to lick Tyalie, I hope soon to be with her. But my hair has grown grey. I think, if it progresses as heretofore, I shall have a white top altogether. Not quite so bad as that either! But it is grey. Oh, I should like at this moment to ride into the dear little square! I can hear your voice when I left you on the 1st January, as plainly as possible. Do you recollect the glove in the hackney coach in London? 253 And so it will be again, alma mia!
20th March, 8 o'clock.
Don't be jealous, but my landlady has just sent me a present of half a dozen of champagne and two stone bottles of curaçoa, rather a treat to me the latter. The former I will astonish somebody or other with in the bivouac. Fine campaigning this, is it not?
I have just packed my leave-behind box and remaining papers, got a canteen of brandy for Paddy Balfour and myself, and ten pounds of tobacco for my escort, filled the two bags you made with tea and sugar, put up my knife, fork, and spoon, and thirteen plates into a leather letter-bag. The tea-kettle is tied to my saddle-bags. We make carbonada on a forked stick, oh, so good it is! quite different to what it is when done in a frying-pan: you then stick the one end of the stick in the ground, whilst the hot meat hisses in your face as you recline on your karosse à la Turque. Very fine. But the old round table at Charlie's Hope would do as well!
I really am capitally equipped, and if you were like me, young, I should like to have you with me. God knows but it will be cold before we get back. This Grahamstown itself is the coldest place in Africa. The moment you are five miles from it, the climate is much milder. Not a tree near it, scarcely a bush, and such bleak cold-looking hills you cannot conceive, as cold as the Pyrenees–where you rather roughed it than otherwise in the old paved tent. Do you remember when old Billy Mein, 52nd, used to come and drink with me grog made of very bad rum? We were not so nice then as to have brandy.
I have desired you have a Grahamstown journal sent you, and I beg you not to believe more than one-half of the alarming lies that will be published in it. This place ought to be called "Necessity," for it is the mother of invention.
Adios, alma mia di mi corazon. You have a good long letter this time.
ENRIQUE.
Camp near Willshire, 25th March.
Up at four; sing out to cook for coffee; "Minni" (sergeant of the escort), "feed horses"; "Japps, rouse up the escort"; "Up saddle, camp." Marched as soon as light into a nice bivouac. I have a most beautiful bush, and a still better one for His Excellency, and one between us both for Kittie. Capital breakfast; cows give lots of milk. Secretaries all at work building me a hut. Twenty men on fatigue building one for His Excellency, who has not yet arrived.
Nine o'clock. "Escort, up saddle"; "Japps, order Pompey for me and Minni's horse for Captain Jervis. We are going to look for a new line of road." Return to camp at one, having chalked out my road and sent a hundred men with Jervis to repair it. Report of five Kafirs prowling about the camp. Their spoor discovered back over the Keiskamma. Learn that His Excellency is not to leave Grahamstown for a day or two. Much mortified; I have built him a noble hut. Have a most capital hut myself, just completed, and wish una vieja muger que se llama Juana was within it.
Just received a report that some cattle are seen on the other side of the river. "Japps! a horse and my escort." "Ah, ah, sir!" Up saddle and off.
Just come back. I fancy I see some, and send out a patrol of 50 men under Field-Commandant Lindé, Swellendam Burghers. The finest old fellow upwards of 70 I ever saw, except my poor old Padre. Just such a game old fellow as he is. Order dinner. Bruintjes (you must be acquainted with him); Painter and Minni you know; all these are occasionally called in my delicate voice. Our conversation is now beginning. "Well, Bruintjes, what's for dinner?" "Some skin beef I can for soup mak." ("Don't make such a jaw, men; I can't hear what my cook says.") "Some pampoose too, sar, what master bring from Kafirland. Leetle onion, sar; a leg mutton for rost, sar; some bock what left yesterday, sar, what the Boers send master for hash; dat plenty, sar." "Yes, by G—d, plenty, Bruintjes. Well, good fellow, mind, coffee ready directly after dinner, then you shall have your grog. Keep me waiting, no grog. Japps, what the devil are those loose horses doing here about my hut?" Japps, in a voice something between thunder and the croak of a frog, roars out, "Heigh, you d–d Boers! You take way your horse from Coronel." The prospect of a good dinner makes me think I am dirty. "Painter, lay out my dressing things, lots of water, and a clean shirt." A glorious splash, the water as cool as possible, the day not being so hot as yesterday. I think in a day or so it may rain. All the better for our grass. The cow-boy, "Black Jim." "Well, Jim, what do you want?" "Kraal to be made for master's cows." "Very well, Jim; but make a kraal for the calves too." "Yah, Mynheer." "Or no grog." "Yah, Mynheer." "Now, be off."
"Field-Commandant Dreyer wishes to speak with you, sir," says the orderly sergeant. "Well, Dreyer, why the devil won't you come in? What a ceremonious humbug!" "Coronel was busy write." "Oh, you be d–d, and come in sit. Well, vaar is the Kafir?" "I canno say, meinheer. Coronel must loup into Kafirland." "How can I, Dreyer? I must wait for the Governor." "Well, where is the Governor? He must come: my mans is tired for 'nix mak.'"254 "Can't help it, Dreyer."
"Well, Sandford, what do you want? Paddie Balfour, and be whipped to you, don't make such a noise. Japps, send this order to Commandants Lindé and Dreyer." "Yas, sar."
Sandford. "Colonel, I want an escort for empty waggons to Grahamstown." "How many?" "Twenty-two." "By Heavens, we shall eat up all our stores, lying idling here: I will order an escort. Let them make haste back, and lots of rice and spirits, mind." "We are getting very short of beef too, sir." "Damnation, I hear nothing but bad news. Orderly, tell Greyling and Nel" (two capital Boers) "to come to me immediately. I will get meat, Sandford. Any more bad news?" "No, sir, plenty of stores as yet." "Well, Ford, did you bleed them?" "No, the camp is very healthy, and the wounded at Fort Willshire are all doing well." "Send for Adair. Order an escort for Sandford's waggons. Ford, come and dine with me, and be off now, I am busy. Well, Greyling and Nel, where are the bullocks and sheep?" "I know no tings, sar." "The devil you don't. Be off both of you immediately beyond Fort Beaufort. Bring me 40,000 sheep." "Nay, Mynheer." "Well, go and bring me as many bullocks and sheep as I shall give you an order for, when I and the commissary have made our calculations. Here, Andrews" (the Dutch secretary), "make out passports and authorities for all persons to aid and assist Greyling and Nel to go to Beaufort for sheep. Well, sir, what do you want?" (A great fat stupid-looking Boer standing at the hut door.) "Mynheer, mi vrouw—" "Andrews, what the devil does he want?" "To go home, sir, or to have his gun mended." "No, sir" (in a very low voice); "I want to go to my vrouw, but by G–d I can't." "No more shall you. Go to your camp, and be ready to shoot Kafirs. Here, bugler, sound the grog-horn." Then such a hurrah! "Almost dinner-time, Painter?" "No, sir, only five." "You are wrong." "No, sir, I am right." "You, sir, why do you contradict me? It is six by my appetite. Well, Hallifax, what is going on in Fort Willshire?" "Fort Harry, sir, will be finished in a day or two." (A little post he has established as a look-out, and named after me.255) "Wounded doing well." "Are you going to stay and dine?" "With great pleasure." "Southey" (Captain of Guides), "let this way-post be sent to Captain Jervis, who knows where to place it at the turn-off of the new road." "Well, Bagot, what is it?" (He commands a battalion of Hottentots.) "Shall I post any additional sentries to-night?" "Why?" "Five Kafirs were about the camp." "I care not a — if 5000 were around my camp. I will post my own picquets, ah! and sentries too–or vedettes, as I call them; ah! and take good care of our camp too. Five Kafirs shan't take us, be assured."
Well, old woman, this is a little specimen of one of my days in camp; so that you may readily conceive what a holiday a ride is. But all this is good fun enough, compared to the quill-driving in Grahamstown.
* * * * * *
What shall I do to-morrow? Think of old Juana. Yes, because I do nothing else, I believe; although all the fellows wonder what the devil I am made of. I am here, there, and everywhere. No party do I ever send out but in two seconds I am amongst them; when they look grave I sing (beautifully, as you know), and the Boers laugh at my gaiety beyond everything. A young, big, fat Dutchman has just come to my tent door, saying that he has no blanket, and that it is very wet. What is he to do? "Go to the devil, and warm yourself, you spoony. Make a fire, sir, and sing over it. I have given you grog. Why, I never had a blanket campaigning for ten years. You want pluck, sir. Be off." This is the way I go on almost day and night.
Night scene. "Hallo, sentry." "Sir." "What the devil are the dogs making such a noise about?" "Don't know, sir; they always make a noise." "Are the horses right?" "Yes, sir." "What horse is that, biting himself so?" "That horse is master's old horse, what carries the canteen." Then sleep. In an hour, "What horses are those I hear moving?" "Some escort with letters for Coronel." Out with a lucifer: light candles. Sometimes the letters are worthy a candle, oftener cock-and-bull stories. Lie down and sleep again. "Sentry, near daylight?" "No, sir, moon." "I wish the dogs were at the devil." "Make too plenty noise, sir." Sleep. Soon after, awake, look at my watch. "Hallo, bugler, blow the rouse; Japps, feed; Bruintjes, coffee. Painter!" "Coming, sir!" "Where are the straps to my trousers?" "Under your 'ead, sir." "Why, what an ass you are! Leave them in my boots. You, Jim, where's the milk?" "Here, Mynheer." "Balfour, where are you?" "Coming, sir." "Why, the shadow in your tent makes you look like the knave of clubs." . . .
Adios, hija. Tu fiel, fiel,
ENRIQUE.
Camp on the Debe Flats,
8 o'clock on the night of the 1st April, Tom Fool's Day.
We are now pretty well collected, and Master is quite ready for anything. He is really a perfect soldier in the field, and to hear him laugh when I blow up the fellows in Dutch (that is, my Dutch)! But his delight is to dine and breakfast with me, particularly the latter. Our breakfast to-day was really perfection.
I have some excellent guides to all the passes in the ridge of hills which we are going to stir up to look for cattle. This Kafir war is nothing else than that. Read of Walter Scott's Borderers, and you will learn what Kafir warfare is:
"He would ride
A foray on the Scottish side."
It is just that. You gallop in, and half by force, half by stratagem, pounce upon them wherever you can find them; frighten their wives, burn their homes, lift their cattle, and return home quite triumphant.
4th April.
Last night at eight o'clock, on our return from a march of twenty-two hours, I received your dear letter. Yesterday I roared myself into one of my Vittoria lost voices,256 and to-day I am whispering and swearing exclusively for my own amusement, for no one hears me. Old Doyle says I am still in advance in the talking way, and could afford a year's silence at least. Murray is sitting with me; he is my great friend. Your description of your robbery and the "cuchillo"257 is highly amusing. I ought to publish it in this army, and show what a Spanish woman dare, for, by heavens! here I have some arrant cowards. The Boers of the old Commandos talk of the glories of former times, when the Kafirs had only assagais. But now that they have a few guns, which they use very badly, Mynheer funks. There are, however, some very fine fellows amongst them.
Quite delighted to hear of the "Green Jacket" getting on the windows. We want very much some "Green Jackets"258 here, for this warfare has all–nay! more than all–the fatigue of any other without the real excitement of war. Oh! the noise of the devils of captured cattle. Above a thousand head of cows and calves are now roaring in our ears.
Headquarters, Camp on the Debe, 5th April, 1835.
Our Hottentots are the most willing fellows possible. I call them my children, and all their little complaints, wants, and grievances they lay before me, which I listen to most patiently, for I exact a deal of work from them. . . . I will send off a warning order to the troops to march to-morrow at daylight. I always like to give the fellows all the warning I can. Arrangements, as His old Excellency calls them, are leather and prunella; for though he writes them beautifully, and in the most military and technical terms, there is not a soul in this camp who understands what he means; so that the pith of the matter is contained in the words, "March at daylight to-morrow, Monday, the 6th instant, commissariat and other waggons following column." There it is, and all hands understand that it takes just two hours for our commissariat train to arrive, from the moving off of the first waggon to the arrival of the last, when the road is good. You may, therefore, General Juana, conceive what it must be when there is any serious obstacle to pass. It is really quite ridiculous to see the proportion of soldiers to the waggons; for when stretched out on the road, each with eight bullocks, it looks as if each soldier had one waggon at least. You, General Juana, accustomed only to regular armies (except a few guerrillas or so), would laugh to see our motley group, with every costume of a mean kind which can be imagined,–the Boer with his old white slouch hat, his long gun, his miserable saddle and bridle; the Hottentots with a little low-crowned hat, black jacket and trousers; the 72nd's men with crackers,259 their pipeclayed belts left behind, and a little ordinary pouch substituted for the large one, wearing a forage cap with a large red leather peak, which makes every man look exactly as if he had sore eyes; old Dutton strutting about the camp in the paraphernalia of a Kafir chieftain's wife.
Camp on the Buffalo, daylight or nearly so,
Friday, 10th April, 1835.
The Third Division, under Jem Cox, and the Fourth Division are going to remain here to hunt the rebel chiefs, while the First and Second and Headquarters go on to Hintza to bring back the captured cattle. I hope twelve days may see us back here again.
Bivouac on the Gunga Rivulet, six miles from the
Gonoube River, 4 p.m., 11th April, 1835.
I am writing on my knees, the table not having arrived in the waggon just yet, in a most beautiful bivouac on the banks of a woody streamlet with beautiful water, and grass up to the knees. We have marched twenty miles from the Buffalo upon the main road into Kafirland over very open country without seeing anything but some Kafir cranes, two khorans, and three partridges. Lots of kraals, but all have been deserted for some time.
I am half afraid Master is only to go to the Gonoube to-morrow–six miles–and halt the next day. Such slow work is quite dreadful. Last night I had a regular fight with him. He funked dividing the army–nay, actually gave it up for all I could say or do. I was perfectly mortified. However, in the middle of the night he changed his mind, and I had it all my own way. He is far too scientific for this guerrilla warfare, always full of combinations and reserves, and rears, and fronts, and cautions and dangers, and false movements, and doubts and fears. The greatest fault one can be guilty of is dash. Yet it is the thing, and there is nothing to fear.
I wish you were with me just now. The tent is all pitched, my table up, the rushes laid down, all my clothes put inside (as it looks as if a heavy dew were going to fall), a large heap of beautiful dry wood laid ready to light at daylight. The soup has been on at least two hours. Our dinner, I hope, will be good, for me most certainly, for all I care about is soup with rice, and I eat such a lot, about five times as much as when with my dear old woman. We get also a lot of beautiful pumpkins from the Kafirs' gardens, which help the soup, and we boil it with our rice. To-day, had there been time, we should have had a hare, which one of the men brought me yesterday; which I ordered to be stewed with rice and a piece of ham (Viva Espana!). But then we ought to have had un poco de aceyte y una cabeza de ajos.260 . . . I wonder how I write Spanish. Do you understand it or not? I get on just as fast with it as English, anyhow; and if you do not understand 'tis you who have forgot your own language, and not I how to write it.
6 o'clock, evening. 12th.
No ladies or any cattle brought in to-day, but I think we are running the whole population to earth on the Kei. There are great marks or spoors of innumerable cattle having been driven towards it. This should be our boundary. It is as bare of wood as the fens in my country, or even your country, scarcely covert for a hare, much less for the wily Kafir, whom I look upon just as a wild beast and try to hunt him as such. I little thought that the pains I took to make a huntsman of myself would hereafter befit me for a general of renown in Kafir warfare. But so it is. "Right ahead" and a "forward cast" will soon ensure you "Woo-hoop," or as you call it "Oo-oop." (Don't "queeze" me, it is very "estraordinary," you always do so.)
I hope that you may hear from me every week. I do my best to ensure it, and as yet I trust you have not been disappointed. If you are, be assured it cannot be helped. The distance is so enormous, and the odd devils we have to send as escorts with the mails do not, like regular soldiers, enable one to say that it will arrive on such an hour on such a day. The Hottentots are to be trusted, poor fellows; but the Boers are too fond of sleeping. Although I get on famously with them, I have no particular opinion of their pluck, and always have about me my twelve men with double-barrelled guns, my escort, with old Japps, whose very holloa! would frighten a Kafir if his shot did not. Twelve more plucky fellows I never saw, and they watch me like hawks. If I move, they are after me and all round me, and every night mount sentry over me. If I whisper, Japps hears me. My bugler is no great hand as a musician, but the gamest fellow I ever saw (I am my own trumpeter, n'est-ce pas, ma femme?); but all our fighting is now over. It is quite an affair of Smithfield Market now, or will be in a few days.
Daylight on the 13th April.
We were all ready to march, when Master sent for me, and because Somerset's division is not up yet, has ordered a halt. I remonstrated, but it was of no use. He became touchy, talked of principal combination, military errors, etc. So I dropped the matter, as I always find it best to do at the moment, and renew it hereafter. Upon the whole, we are doing very well, but I fear he does not think so. He has been disappointed in not fighting a general action; which is a thing as likely to occur as that, if such were the case, the Kafirs would beat us.
They are in terrible dismay. Last night (for always two or three of them creep near us), the wind being favourable and the night very still, my Kafir guide sitting by the fire distinctly heard one call to another, "Ah, ah, the troops are come, and we shall be all killed." In my tent I heard their howl. I will indulge in another wash, although it cannot wash away the stain of this day's delay.
A nice cool morning, and I hope the day may be so too, for we have no shade. Not that I care about it; my hands are as black as my face, and that is the colour of dear little Moira's nozzle, and my head about as gray as her nose. A big Dutchman just put me in half a rage. He came for a bullock skin. I gave him the order on the commissary, and the brute said he did not know where or who the commissary was. Now surely it was right to blow up such a fellow? I have improved in my Dutch wonderfully, almost as much as your dear Spanish figure has progressed towards the Dutch.
This lost day is a bore. I shall be tired of it all soon. Indeed, the little excitement there was in the warfare has subsided, now that we have no enemy and I cannot make my little patrols. I have no ambition to be a Smithfield Market drover. We will make Hintza's Kafirs drive our cattle back, and guard it too. As I have before told you, it is wonderful how these devils can make the cattle go, when they are ever so tired. I feel delay more than ever, but a light heart (which thank God I possess) keeps me the most lively fellow in the camp. All the fellows in camp rejoice in me, thank God, and the soldiers would go to the devil for me. I feed them well. Two of the wounded fellows passed me yesterday, those with assagai wounds who had been with Murray. "Well, my boys, how are you?" "Oh, quite well, sir." "Ah, it is me who gets you into such scrapes." "We will soon be ready to fight under your honour again with all our hearts and souls."
Halting-day, 13th April (continued).
We are just going to take a ride–Master, me, and escort–upon the road to the Kei, with some of our guides. And then such questions as he will ask these fellows, who are as ignorant of what he wants to come at as possible–the name of this hill and the other, the source of this river, and that t'yaron, sometimes with impatience. But the dear old gentleman sets down all this to the credit of science and information, and thinks my guerrilla ideas are far too wild. To-day he said, "In your view of the case there is no combination. All is trusted to a blind succession of chances." So I bristled up and said, "General, war in itself is a succession of chances, like all other games. But science must be its basis, and the great science of war is to adapt its principles to the enemy you have to contend with and the nature of the country. If you do not, you give him so many chances of the game." This rather posed him. "Oh, certainly, I do not deny that. On the contrary, I agree with it." I did not like to push him any further, for the great danger I have to avoid is that of assuming towards him a dictatorial manner; and God knows my manner is brusque enough, soften it down as I will. I am obliged sometimes to speak out; but I do so with every endeavour to avoid hurting his feelings.
14th April, 4 o'clock in the afternoon.
Just arrived from a march. We have taken a Fingo, a Kafir of an inferior order, who has given us very important information. He states that Hintza has all the Colonial cattle collected and ready to restore to us, and that he is within two days' march of us at his residence near the missionary station of Butterworth. I ought to have told you where we are: which is, as the crow flies, within six miles of the Kei, but twelve miles by the waggon road. The bed of the river is very evident, and the country now most beautiful again, intersected with ravines on a minor scale like those of the Pyrenees, beautifully studded with gardens, and with pumpkins innumerable.
15 April, 4 o'clock in the morning.
Just received a beautiful letter from Master, which put me in great alarm–full of very military reasons why our march to-day should be delayed, and begging me to come to him that we might discuss it. So off I started from my barrack-sheets and karosse, and after a little preamble I found him much more easily turned into my path than I expected. So we start to-day at seven. The enemy is so disheartened now, that I think if you were here with your female attendants and that large knife, with a red cloak on, the sable foe would fly before you.
"Now, Paddy Balfour, you ugly beast with your moustaches, pour out the coffee, and be d—d to you."
"Battle over, sleep in clover;
Who so happy as we in camp?"
I am in great spirits this morning at having overcome the delay. "Up saddle."
6 o'clock, 15th April.
This day has turned out much more auspicious than my utmost desire anticipated. I told you in the morning I was in high spirits, because Master consented to march down to the Kei. So I took care to be long before my time on horseback at his tent, with the advanced guard and my escort. He said with his usual politeness, "Pray, do not wait for me, Smith. Go on." The hint was quite enough. It was all I wanted, and off I set in as fast a shuffle as I could keep the cavalry horses in, down to the river (about 11 miles). We could observe the tops of the hills (almost mountains) on the other side covered with Kafirs. The more there were, the more I pushed on. On my arrival at the ford, I was challenged from the opposite side by "Hallo, English, do you know what river this is? This is Hintza's country. What do you want here?" I halted my troops, and made my Kafir desire one of them to lay down his arms and to come down to the river to speak to me. They were dreadfully frightened, but at last one laid down his assagai and by degrees in about an hour approached my Kafir. I told him to say that we were come to make Hintza give an answer to our former demand; that we would enter their country for the present as friends. All depended upon themselves and Hintza whether or not we were afterwards enemies.
During our conference we were joined by His Excellency, who highly approved of what I was doing. I went close to our side of the river–my Kafir sitting in the middle, Hintza's Kafir on the opposite side–and had a long jaw,261 which ended in our entering Hintza's country for the moment as friends, and sending off for him. But no Kafir was to come near us with an assagai The Kafir was a clever fellow, and wanted me to name a place to meet Hintza. I told him Hintza should have been on the river to meet the Governor, and we should march on until Hintza came. His Excellency was satisfied, so I said, "Now, sir, let us cross immediately." He was full of two or three little doubts, fears, military precautions, when I could stand it no longer, and roared out, "Mount!" "Now, General," I said, "I will cross, and you will see every fellow fly before me. Then pray send the whole army on."
It was as I said. The fellow with whom I had the parley came up to me on my ascent from the river and told me he would desire the people to keep out of my way and would lead me wherever I might like to go. He is a most civil, athletic savage, 6 feet 3 inches high. He is now sitting with me, having eaten half a sheep, and his manner is really very fine. He liked my gingered tea exceedingly, but could not bear brandy. We have just had a visit from three of Hintza's councillors. He himself is in the upper country. We have told them what I have before stated, and they are to send off for their king immediately. They promised fairly, and seemed terribly frightened when we threatened them with Fakoo in their rear.
I can talk Kafir wonderfully–Asapa, "come here"; A Bāmbā, "good-bye"; Ekwee, "yes". Now that is a great deal to learn in one day, besides crossing a river and getting over a flock of sheep rather than soldiers, pleasing a master, writing nonsense to an "auld wife," and orders for the camp, blowing up fifty people at least, shaking hands with some fifty Kafirs, and giving them tobacco, and a breakfast to two of them, who were highly delighted. The graceful air and gentlemanlike manner in which they thank you is really astonishing. No French marquis of the ancien régime could exceed their bow and expression of countenance. The knowledge they have, too, of passing events is totally surprising. They are perfect politicians, and talk to me of the general policy of our countries.
4 o'clock, 16 April.
On the road to Butterworth, Hintza's residence.
Gona Camp, 7 miles over the Kei.
Hallifax, who literally loves me, has made a fort, which he and Bingham–the impudent rascals!–call Fort Harry, just above Fort Willshire; and last night they sent me a copy of a drawing they have made of it, and which I send to you. It is a very useful little work, I assure you, and must be admired by you because its name is Harry.

FORT — HARRY.
Hallifax et Bingham fecit
Old Pato has just arrived with the waggons and one of his chiefs, come, he said, to learn the news. He has sent a message to his cousin Hintza. Old Pato says Hintza is a great chief. We must wait patiently with him, and give him time. He is a great chief. So I told him, great or small, if he or a messenger from him were not in to-morrow, I would be at his people immediately. At this old Pato and his captain laughed fit to kill themselves. They are two monkey-faced rascals, but they are dressed like Dutchmen, and really very well-behaved fellows. Adios por el momento.
17th April, 4 o'clock in the afternoon.
After rather an uninteresting march, the country being very monotonous, here we are in the most beautiful and highly cultivated valley, close to Hintza's residence and immediately in front of the missionary institution of Butterworth, formerly occupied by Mr. Ayliff, but now abandoned. We breakfasted in a nice little ravine with good water and visits innumerable from the Fingoes, whose cattle are grazing all around us, giving the air of harmony, peace, and confidence. These Fingoes are a race of men formerly dispersed by Dingaan's tribe. They took refuge in Kafirland, and are but ill treated and little looked upon by the Kafirs. They are exceedingly inclined to befriend us, and if Mr. Hintza is not what I know he will be, we will arm all these Fingoes and use them as an instrument of vengeance against their oppressors. They are a fine athletic set of fellows.
Master is very communicative to me, and, I am vain enough to think, takes my advice, but it is difficult to advise. My mind is not enough awake to the subject. When the responsibility is mine, my versatile disposition turns the subject in a thousand ways, and at daylight a bright ray of intellect has heretofore been kind enough to say, "Enrique, do so-and-so." It is really astonishing when I reflect upon my late career; everything has occurred to me as if by inspiration. All my little successes have flashed across my mind in an instant, and have been to the utmost of my power as instantly put into execution.
Midday, Saturday 18th.
One of Hintza's principal councillors, who came to us the first day, has just come in with a long tail, and claims an audience. He is a little shrewd-looking old fellow with a tiger-skin karosse, and brings as a present and token of good faith and amity a bullock.
We have given him a saddle and bridle, and oh, the delight of the fellow! Thirty-five are sitting round me, having thrown off their karosses, as naked as they were born, one, a great orator, holding forth to the honour of the British nation–I dare say a great humbug; however, we can humbug too. I have just given all of the councillor's tail a piece of tobacco, and his orator a tinder-box; also to two a knife apiece, and oh, such kissing of hands! He says Hintza will be here to-night or to-morrow.
7 o'clock.–Oh, it has just begun to lighten tremendously, and the thunder rolls ten thousand cannon. Such vivid lightning I scarcely ever saw, like a blue light at sea, and lasting almost as long. Heavens, what a storm! I must shut up my desk. Good God, how it blows and rains and lightens! The candle is almost flapped out with the walls of the tent; I will finish this page though, if possible, rain or no rain. Viva Mr. Hintza's country! You are a changeable fellow, hot and cold, wet and dry, light and dark in a moment. Blow, rain, thunder, lighten, but pray let me write to my poor old wife, for I can't go to my bed yet, the rain so spatters through my tent.
Evening of the 19th, Sunday.
About 2000 Fingo captains have come in to say they must return into the colony with their wives and families, which will be granted them, so that I shall have a pretty increase of my cares. These are, as I have before told you, real game fellows, and, supported by my best of Hottentots, will drive more cattle out of the kloofs on the bed of the Kei in one day than we could in a week. It will be a measure of great policy, too, to bring with us a settlement of people so well disposed towards us and place them upon our new frontier. They appear to be of a much more docile nature than the wild Kafir, whose head is mischief and heart deceit.
I therefore hope to see them and their families comfortably located on a good ground and their huts built before winter, and hereafter they must be taught to build cottages. I feel convinced that nothing would tend to the civilization of these poor people more than domestic comfort in a nice cottage in place of lying all together like dogs in a kennel. . . . Goodnight, my soul, my love, my wife.
ENRIQUE.
9 o'clock at night, 19th April.
I have just received a deputation of royal blood. The lookout officer reported to me that about one hundred Kafirs were coming towards the camp in a friendly manner and without assagais, so off I started with my orderlies to meet them, making sure they were from Hintza. On my approach I halted them, and desired one to come out, when out came a tiger-karosse man He said he was the captain, Kuba, come to pay his respects to the Governor, and asked the news, which is their mode of wishing to know whether we are friends or foes. I told him that four of his people might come with him, and I would then conduct him to the Governor. The Governor told them the news was with Hintza. This was all they could get from him, but he was very civil.
We encamp in a very curious way–not as in the Peninsula, the General some distance from the camp. We are all in a square, the troops outside, the General and staff and all the commissariat and oxen and waggons within. Sentries outside of the whole.
I have just returned from poor old Master, who now is very kind to me, and treats me with the most marked attention. He said, "Well, have you sent the sketch of yourself to Mrs. Smith?" "Oh yes." "Do you know what Michell says?" "No, sir." "Why, that if he could get you to stand still for one minute, he could make a perfect likeness of you." "By God, sir, I have not time to stand still." "I believe you," said the old boy; "you have not stood still;" and he shook my hand.
20th April.
I have just ordered Bruintjes to bring me a camp-kettle lid full of embers, and now am quite warm. Such a cold day as this would put me in a fever about you, were you here, lest you should get cold, lest you should not have all you want. For years now (that horrid thing, Time!) you have been accustomed to luxury. When I was first troubled with you, you were a little, wiry, violent, ill-tempered, loving, always faithful, little devil, and kept your word to a degree which at your age and for your sex was as remarkable as meritorious. How often have I admired you for it! Had it not been for your own good sense and faith to me, I should not have had my dearest love as a young woman, nor an old Boba to whom to pour out the feelings of an affectionate heart. But please Almighty God, I shall have this old woman with me, until we both dwindle to our mother earth. And when the awful time comes, grant we go together at the same moment!
It is time we changed our camp. This delightful valley, so beautiful in its crops of Indian and Kafir corn, the hills around, so luxuriantly clothed with grass, are all now eaten off or trod down by the innumerable bullocks, horses, and animals we have with us, and bear the countenance of what you have so often seen–war and devastation. When we march to a fresh bivouac, all is again green and gay.
"Battle over, sleep in clover;
Who so happy as we in camp?"
Answer, "Enrique with his Juana at Charlie's Hope." Oh, I must tell you of the compliment the Kafirs paid me the other day by calling me a beauty! They yesterday, after looking at my feet in my brown boots, asked the interpreter where I put my toes, and then like great baboons they laughed at their own wit, so that we all turned to and laughed also.

The soldiers were very much amused yesterday with me, when cross-questioning one of the Hottentot deserters. I asked his name, which was–what do you think?–Henri Smith! By Jupiter, how the fellows laughed! However, I had my jaw too by saying, "All Smiths are sharp, active-looking fellows, and so is our deserter rascal."

I am glad to see those rogues leave the Kafirs. Nothing disheartens the brutes so much as the supposition that you know what they are doing. They will, on account of it–we are given to understand–change their plans even. It is just so with a wild beast (you were a sportswoman once, you know, dearest). Head a wolf, fox, hare, any bête de chasse, and it will change its whole plan of escape immediately. So it is with the Kafir.

10 o'clock, 20th April.

Somerset's division, or rather the débris of it, has just arrived in twos and threes, forty times worse than the army of Burgos was in the pig-shooting days which you witnessed. This is the way in which it has marched these three days. To-morrow His Excellency inspects this division (what a name for it!), and I will answer for it we will still muster a few horses fit to do something.

23rd April, daylight.

My fifty Fingoes just coming in like Trojans. I have ordered each 3 pounds of meat. Upon my word, I never saw anything so fine as my fifty Fingoes, all with their assagais and their shields, and singing as they marched along, all aroused as if the blood of their forefathers was flowing through their veins, when their nation was independent and important amongst the other savages. They then gave me a war-whoop, and jumped, and then sang again most melodiously in a deep sonorous voice, with a most harmonious bass. Nothing villainous in their countenances, but full of heroism and fine feeling.

9 at night.–Oh, such a Johnny Raw as old John Bell sent up to us to-day, young —! The General did not know what the devil to do with him, and sent for me. I soon appointed him a Volunteer to the 1st Provisional Battalion, and as he had neither tea, sugar, coffee, nor brandy, he was a pleasant fellow to join a half-starved officers' mess. I set him up with 2 lbs. tea, 4 lbs. sugar, 4 lbs. coffee, and a canteen of brandy, with this good advice: "Be broad awake, sir, and learn to speak quick." I was very near telling him to get his hair cut. Tell dear old John to send us no more such trash.

Bivouac on the T'solo, a small stream running into the T'somo,
which runs into the Kei, 30th April, 1835.

Viva Enrique!

MI QUERIDISSIMA MUGER,

Since the 24th, I have not been able to talk with you, and in these six days your old man has worked wonders. Hintza dined with me yesterday, and is my son.

On the morning of the 24th instant, His Excellency having waited nine days for a communication from Hintza and none arriving, proclaimed hostilities to a chief named Kuba (Lynx-eyes), and fired a gun in great ceremony. Knowing pretty well that nothing but the most vigorous and indefatigable exertions would bring this fickle chief to terms, I had a little bit of an army of both divisions told off for me, with which I immediately commenced operations, the results of which are detailed in the accompanying two letters. With them I send my dear old woman a copy of the General Order on the subject.

On the afternoon of yesterday, on my return, His Excellency, who was most highly delighted at my success, informed me that on the 27th and the 28th, he had received communications from Hintza, but he had refused to treat with any one but himself. "Right, sir," says I, "by G—d." He continued, "This afternoon you will see him himself, or I am the most deceived of men." (However, I held in readiness a detachment of fresh troops to march against Boku at two o'clock in the morning on a fresh venture.)

About four our picquets reported a body of horsemen coming in. We sent out Beresford to meet it, and in rode the Great Chief, a very good-looking fellow, and his face, though black, the very image of poor dear George IV. He seemed perfectly satisfied of his safety among us, and acted majesty with great dignity, though nearly naked like the rest. He said to the Governor that he was ready to proceed to business.

His Excellency, therefore, read sentence by sentence a long story of grievances, which our interpreter spoke. Hintza paid great attention, occasionally made a remark, and when it came to the terms on which we would make peace, he sighed two or three times; then gave a toss of his head and said he would consider of them.

I asked him to dine with me. He and one of his councillors came, and you would have laughed to have seen us all. He fed himself very well, ate enormously, drank only water, but lots of coffee, with pounds of sugar in each cup. After dinner he began politics. I soon saw he was for coming to terms. He said he looked upon me as his Father. I therefore soon cleared my tent of all but myself, the Interpreter, Hintza, and one of his councillors. In deep whispers he proceeded to talk over the present state of affairs, pointed out the insubordination of many of the chiefs under him, and, to make a long story short, we swore eternal amity and friendship and privately concluded peace on our terms. The whole was to be publicly ratified in the morning.

I stuck to my son, turned out all the troops, and assembled all the officers. The Governor appeared at their head, I and Hintza and his councillors opposite. I having pledged myself to be his patron and answer to the Governor for his fidelity (which highly pleased him), he then ratified all the conditions of our treaty and shook hands with the Governor and with me.

I then said, "Now let it be proclaimed far and near that the Great Chief Hintza has concluded a peace with the Great King of England, and let the cannon fire."

Three guns were loaded and fired in succession accordingly. Hintza was delighted. All our prisoners had been released. We had a capital breakfast together, and soon after gave him his presents. I never saw a creature so delighted. He swears by me. The main points of our treaty are these (there are several minor ones)–that he shall within five days give up 25,000 head of cattle and 500 horses, and that this day twelvemonth he shall pay 25,000 more and 500 more horses. He is to place two hostages in our hands for the fulfilment of his treaty, but as to hostages, he says, "Why, I will remain with you myself." He is to order the rebel chiefs to submit, and to consider our enemies his. I am quite amused with the fellow. Now, old woman, I give myself more credit for my negotiations than anything else, and God knows I have been the humble instrument for concluding this arduous and laborious war most satisfactorily. I have followed the enemy everywhere, driven him out of every den, captured 25,000 head of cattle in all, and concluded an honourable peace. The poor Excellency is most delighted. The labour I have encountered from the morning of the 24th to the afternoon of the 30th has astonished everybody, nay, even myself. It is nearly equal to my ride up from Cape Town.

Hintza's son is just come in, a very fine young man about nineteen or twenty. I am to have the honour of his company at dinner, with that of his papa, my son. . . . Oh, to-day my heart was full to overflowing! I had taken prisoner the brother of a chief called Chopo. I told him yesterday that he or his brother must pay 500 bullocks for his ransom. Then he said, "My liberty is a hopeless case"; and he sighed and looked so melancholy, I quite pitied him. He was a very handsome, nice youth. After peace was proclaimed, I sent for him and liberated him, and I declare he made such demonstrations of real gratitude, that the poor savage saw a tear steal down my cheek. I could not help it. Poor fellow, how delighted I was to have it in my power to confer the great boon of liberty on a poor fellow-creature!–almost a reward for my labour, I declare.

To-morrow we begin to turn our heads towards home, but we must wait for the cattle. Hintza has sent in all directions for it, and it is to be here in five days from to-morrow's sun.

How you would laugh to see me walking about the camp with Hintza leaning on my arm!

Four o'clock, 30th April.

What do you think has been my occupation for this last half-hour? One very much in my way. Stringing a large necklace of glass beads for young Hintza. I have just hung it round his neck in three rows.

1st May.

Just four months to-day since I left you, dearest. What a time it does appear! Good heavens! four years at least.

There never were such game fellows as these Hottentots. The other night in the Kei, after a terrific march, when we got up to the enemy, I halloed them on like a pack of hounds, and, upon my word, they flew past me through the bush like buffaloes, making everything crack before them.

Only fancy, my dear old woman, what must have been my five days' late campaign. I never shaved from the 24th to the evening of the 29th, nor did I ever comb my hair. My toothbrush my only luxury. I changed my pantaloons because in a cattle hunt the mimosa bushes literally tore them off. The difficulty of obtaining information where anything is going on occupies every moment one has off horseback. One of the days I was out, Paddy Balfour–meaning well, God knows–sent my led horses with the infantry, and at night I had the gratification to find myself 25 miles from them. We had lots of cattle, but killing and eating two hours after dark is rather a bore. Luckily, one of the men gave me a bit of tongue–no salt nor biscuit, but I was delighted with it. Next morning, on joining the infantry, having had no cup of coffee, I was so hungry, by heavens! I could have bit a piece out of my wife's shoulder, when one of the escort hauled out of a dirty haversack a bone of a goat, which he had already had a gnaw at. So I turned to at that, and gnawed it as greedily as little Moira seizes everything out of one's hand. However, after joining my horses, I had a real good breakfast, and we then marched 25 miles over mountains steeper than the Pyrenees, and the weather down in the Amava was exceedingly hot. However, we have overcome all difficulties.

8 o'clock in the evening, 1st May.

I have written a very long letter to dear old John Bell. I wish I could let him be behind the scenes in one of my councils with the chief. Such rascals as they are, trying to overreach you. My delight is for a long time to keep playing with them, as though thoughtlessly about to concede their request, then suddenly to turn round when they least expect it, show them what they are aiming at, and then say, "No, decidedly not. A man never changes 'the word.' It is written–the cannons have fired." This figurative and metaphorical mode of speech they are very fond of. I carry on all our negotiations in this way, until it comes to the point. Then I disrobe the question and put it in plain matter-of-fact language. Altogether it is good fun for the moment, but I can see that as these rascals are bereft of their fears they will become troublesome and try every shift in their power.

We expect Thomson up daily. Master and he will have a long ride or two–I think to decide on eligible spots for a line of posts along the Kei. It is decided we take possession of all this country; but as yet we have not touched upon it to Hintza, to whom it matters but little, as we take possession of no territory belonging to him personally, but of a large portion of his brother Boku's. There does not appear to be any particular love between the two.

2nd May, 5 o'clock.

Just going to send His Majesty his coffee. I sent him one cup yesterday morning, and asked if he would have any more. He said, "Oh yes; I have a large belly."

Later.–On the march to-day met Boku coming in with 20 cattle–all the Colonial cattle he has, the villain.

We had a great scene in camp to-night. There are about 150 followers of these chiefs in camp, and some of them have been murdering the poor wretches of Fingoes, who have placed themselves under our protection. So His Excellency got very naturally irate and blew them up considerably. After to-day's march I recommended that all their assagais should be given up. By way of intimidation Hintza said his people would throw them. So I said I was delighted. I went in amongst them and ordered them to lay down their assagais. They began to untie them and really get ready to throw. So I laughed like the devil, and in a voice like thunder ordered the picquet of thirty men standing with their left flanks towards them about fifty yards off to wheel up to its left, which brought the front immediately opposite the group of Kafirs, at the same time ordering my corps of Guides to file round their rear. The cowards were electrified, and immediately roared out, "Oh, we will give them up! we will give them up!" and in two minutes they were collected. I then went in amongst them with tobacco, and oh, such fun as I had throwing it in amongst them and making them scramble for it!

Hintza, who is really gentlemanlike in his manner, his brother Boku, another brother, and Kreili–Hintza's son–dined with me. And I made them laugh too, although at first they pretended to be rather sulky at their men's arms being taken away. I allowed the chiefs to retain theirs.

Cox reports that Tyalie, etc., are in a state of the most miserable alarm. He cannot get near any of them. They are flying about in small parties, literally afraid for their lives.

3rd May, 10 at night

My son Hintza and I have been at loggerheads very much this afternoon. I let him alone all day, although I could see he was doing nothing nor intending to do anything. At 4 o'clock I summoned him, Boku, and their great councillor Umtini to a talk, and demanded that the two messengers should go to Tyalie and Macomo. They struggled in every possible way. I stormed with the Articles of Treaty in my hand, marched down an additional picquet, doubled the sentries, and then said, "Hintza, my son, I am pledged to the Governor for your faith, and my head is likely to be cut off for your infidelity, so that if you do not fulfil every tittle of the Articles of Peace, we will carry you, Hintza, Boku, Vadana, and your son Kreili, with us into the Colony and keep you until the good faith we have expected from you be extracted by force."

You never saw fellows more astonished. I then made Hintza and his great councillor Umtini come and dine with me. Hintza and he at first were awfully dull, but ate a good dinner. I had six sentries around my tent. After dinner I cleared it of all but the Interpreter, and then said, "Now we will have a talk, and I will again ' give you the word.'" The sentries were told off, and when I said, "Are you there?" every man was to roar out, "Yes, sir."

We parted friends, he in a funk, his followers all disarmed. I marched him down to his tent with ten sentries. Ninety men of the 72nd Regiment are round him, and every minute I make them sing out "All right! All right!" from sentry to sentry. En la moda Española, "Sentre alerte? Alerte soy."

Poor devils! If Hintza had been educated and had lived among well-disposed Christians, he would have been a very fine fellow. I like him and Umtini, but I hate all the rest except young Kreili, his son, who is a very nice modest youth.

4th May Monday morning, daylight.

Did I tell you that last night Hintza said he had rather at once pay the 50,000 head than half in a year? To this I agreed. I have therefore promised Hintza that if in five suns more he brings us the whole of our demand, I will return him 5000 bullocks and 100 horses. Probably this may act upon him, for he will certainly keep them for himself.

6 o'clock, 4th May.

My Royal Son has grown particularly modest or cold, for he asked me to give him a pair of pantaloons. I gave him two. His delight when you give him anything is quite "estraordinary."

Oh! to-day the uncle of Maquay came in to see me. He says (literally) his heart is full to me for my kindness when I might have taken his life. All his wives thank me, and he will never cease to love me. When he went away, he held my hand, kissed it, and bid me good-bye, wishing me all the cattle in the world! A fine manly-looking fellow. When he was quite out of sight, I sent for him back and made him several presents. His gratitude almost overflowed. I let him go first to see if he came in the hope of getting something, but no, it was pure gratitude. One can scarcely consider such a being a savage. If so, he had better remain in his present state.

Poor devils! these little opportunities of kindness make me very happy for the moment. It is hardly fair so to frighten them, but without it nothing can possibly be done with them.

I was perfectly satisfied with the message sent to-day to Tyalie and Macomo. I summoned Hintza and all the royal personages into my presence and desired them to send their message to the rebels. Hintza told Boku to speak. He did so very slowly and impressively to the purport I wished.

5th May, an hour before daylight.

They trumped up a tale in the camp last night that the Kafirs were going to make an attempt that night to rescue their chiefs, by help of a body without. I laughed at it most heartily, but as Master placed much credit in it as a likely thing to occur (very likely!), why, to please him I took the necessary precautions, as he terms it. Amongst others, I desired Captain Murray of the 72nd, should the attempt be made, to go in very quietly to Hintza's and Boku's tent and put them to death, but not to do so until there was a probability of a rescue; so their escape was pretty well provided for, I think.

All is quiet, however, as I ventured to anticipate, contrary to the opinion of all other persons, or nearly so, in camp; but they none of them have been quite so often on outlying picquet as you have been, or accustomed to the little constant services of danger on which I have been for a number of years. (What a conceited old rascal you are, Mr. Enrique!)

This is the 5th sun; now for the faith of my son. I expect some of the 25,000 head, but not all, because I know he has not had time to fetch it since the Peace, so far off had he driven it.

Oh, how all that delay at Grahamstown has altered everything! It might have been all over a month ago, the farmers in their homes, the families who had suffered from the invasion in possession of cattle and roofing their houses or rebuilding them; land apportioned to those who wished for it in the new boundary; every Kafir tribe dreading the name of an Englishman from the rapidity as well as force with which he strikes; thousands of pounds saved to our country; and last, but by no means least, I at home with my dearest faithful wife.

2 o'clock.–I have just given out the order of march for the 1st and 2nd Divisions for to-morrow, the 6th; the latter to cross the Kei, and continue its march back to the Colony with the captured cattle, Fingoes, etc., and all the impedimenta; the first division to move into the camp just on this side of the Kei, where we halted and bivouacked the first day after we crossed.

My tent just filled with Dutchmen come to bid me good-bye. They all march to-morrow, thank Heaven. I do pity them; but if ever Job had had to deal with them, I feel satisfied he would not have acquired his character for patience. I am liked by them, however, and, notwithstanding the many rowings I have given them, am glad to part friends with all that are good for anything.

Afternoon.–The poor Boers keep coming in to bid me good-bye, and with all their hearts. God knows, it is with all my heart I say good-bye. I would never attempt to learn Dutch now. Such is my horror of the language, a bevy of beautiful maidens could not tempt me into a Dutch parley.

9 at night.–The Clarksbury party have at last arrived–lots of parsons; and we march to-morrow towards the Kei.

Boku was to have brought 600 head of cattle in to-day for the murder of Purcell and Armstrong. His messengers came after dark, bringing in nineteen head. So I sent Paddy Balfour to kick them out of camp, and the Interpreter to Boku to say I had done so.

Later.–I have just given Kili, or Kreili, a necklace for his mother. The youth was quite delighted. You cannot conceive a more handsome half-black fellow. He has such a gentlemanlike figure. At first I thought he wanted intellect, but to-day I find it is nothing but modesty. We were talking of the Kei and the rivers which fall into it, when he became quite eloquent, and described the great river, its source, and tributary streams far better than his father or the prime minister. My Royal guests were in great spirits indeed. Hintza talked much about his fifteen queens. They have increased five lately. At first he acknowledged to only ten. He says he loves them much. He never ceases to think of them, when I do not bring out the long paper. He is always horrified at the long paper. I told him to-night we were going to cross the Kei to-morrow. He said, "Very well; I am doing all I can about the cattle, but I, like others, must have time. I cannot perform impossibilities. The cattle are so far off, they could not be here within the five suns."

Morning of the 6th.

The day has turned out so wet, I have been obliged to countermand the march of the two Divisions. The roads here are so steep and so slippery in descending and ascending to and from the Kei, they are totally impassable to the waggons. Therefore discretion says "halt," and patience says "the devil."

If you were to see how Paddy Balfour works for me now, how he tries to have all my things about me right and comfortable! And in the field he is a very useful and a proper plucky fellow, and now knows something about his business, as do a very few more of them–ignorant enough at first, but all, all, most ready and willing to learn. They fly to obey, nay, even anticipate my wishes. Thank God! I never wish to serve with a nicer set of fellows.

How it does rain! Well, a fine day to-morrow. How it used to rain in the Pyrenees, ti acordas, mi pobrecita?262 Oh, how I pitied you some days, although I never said so! But the most varmint thing you ever did was to get on your horse that cold day and ride to Mont de Marsan to return the poor kind woman her bridal basin.263 No person on earth but you would have done that.

I do not think I told you that in one of his notes to me Master expressed a wish that I would move Cox's 3rd Division from the immediate vicinity of the enemy, that is, from the Amatola to Brownlee's missionary station on the Buffalo, at the point where the high-road crosses into Kafirland. I said, "What is the object, sir?" "Oh," he says, "then the army will be concentrated." "Sir," I said, "the sole object I have aimed at and studied is to send the troops in every direction in detachments strong enough to protect themselves, because such is the practice of the enemy. I have never yet sent out any detachment that they did not do something, either take some cattle or a horse or shoot a Kafir or two." So he said, "Very well, let the 3rd Division remain where it is." However, to please him, I have sent 300 of Van Wyk's 4th Division there, because it does not matter whether they are there or in any other place, they are so sick of the war, although they have done much and good service and are real game and plucky fellows. So by agreeing in trifles, as I told you, I succeed in getting the essentials as I like.

Ah! all this is very fine, but I am naturally so lazy a fellow I long to be back again. I do not mind the fox-hunting part of it, but the dry official writing is awful.

Hija, I have just thought of a very nice amusement for you, and one which would be very probably hereafter useful to me. Copy in a book everything descriptive of what we have done, my scenes with my followers, my descriptions of the war, Kafir chiefs, policy, etc., in short, everything but my touterias.264 The rest I will some day publish in the life and adventures of Harry and Jenny Smith.

7th May.

This wet weather does put me in mind of the Pyrenees–that cold camp we had on the very top of them, when our tent was floored with large cold stones, the only time I ever smoked a little, when you made me a little paper segar, and tea, too, to drink with it.

It is so cold, too; however, cold or no cold, in future, if I campaign again in a friend's country, my Juana must be of the party; I cannot again be separated. But in this savage warfare, it would have been folly, nay, the height of cruelty, to have brought you.

Half-past 12.–Hang the rain! it has begun again as hard as ever.

Oh, how I see you now, I think, at Government House in your fancy dress, your dearest shape so divulged, aquella gracia Española, the remembrance of our youthful days and what you have gone through for me, brought back by the costume; all the room admiring you and your dress, and in that room one heart in which the universal admiration is concentrated, because he knows that love of a woman is his own, and knows what others do not–the qualities of her mind, the generosity of her heart, the superiority of her character, void of all littleness, the strength of mind of a noble-hearted man, the soft feelings and affection of the most delicate of her sex!–
"Yet are Spain's maids no race of Amazons,
But framed for all the witching arts of love."
I see you sitting thus dressed at dinner. How I watch you sometimes when I see you animated, your dear full bosom heaving, your eyes flashing fire, whilst with a heart of innocence and joy you are recounting some of our old campaigning stories, and the listeners wonder that a creature so delicately framed could have endured such awful fatigue and for one unworthy of her! Oh, God bless her!

5 o'clock.–My master has just sent me a confidential communication which in the strictest confidence I impart to my own soul for her, her sacred ear alone. It is a copy of his ultimate treaty of peace with Hintza when the latter has fulfilled the engagements of his former treaty; a copy, that is to say, of his proclamation declaring the territory conquered up to the Kei to belong to his Britannic Majesty, including the territory beyond the T'somo. That is, the new boundary-line of this colony is to extend to the sea, up the Kei, following the course of the T'somo to the Stormberg. It will include a most magnificent track of country, I assure you.

The whole is framed upon various conversations which I have had with him.

I have just sent for Umtini, and have desired him to tell Hintza that as two days have passed beyond the time named in the Treaty and he has done next to nothing to fulfil it, he, his son, Boku and Vadana with their retinue, are our prisoners-of-war, and that we now demand the 50,000 cattle and the 1000 horses before he is liberated. Umtini began a parley, but as usual I took hold of the Treaty of Peace, thumped it and gave him "the word," then assumed the civil and asked him what he wanted. He said, a sheep, some biscuit, and some tobacco. We shook hands, and so we parted.

9 o'clock at night.

Just done dinner. We had Major White there, the Assistant Quartermaster-General, a very excellent fellow, very fond of me and argument. I never argue except with old Johnstone, but White, Murray, and Beresford had plenty to say, laying down the law about everything. These kind of conversations make one laugh sometimes, but oh! how I do hate man's society; the same monotonous ideas day after day. Give me strong exercise all day and lots of women to talk with at dinner, and then to my own home with my own. But times alter, and so do I. Give me my own fireside, my own wife, my dogs, my horses, my domestic happiness, and let me alone.

Just finished a very long and laborious report for His Excellency, with comments upon his ideas of the new frontier line its defence, and the force to be kept in the field for the purpose of driving the hostile tribes, even though they make peace with us, across the Kei. Near us they cannot stay. I differ very little in a general point of view from my Master, but he is for not occupying a post nearer than thirty miles to the Kei, I am for occupying a more advanced one, within ten or eleven miles of it, and patrolling frequently up to it. There is a degree of weakness which I am averse to avow in proclaiming an extensive territory as ours, and not placing a soldier upon it within thirty miles of the boundary. These posts will be all fortified so as to prevent any aggression on the part of the enemy, and a moderate time after the proclamation I would shoot every Kafir not authorized to remain in our territory.

Head Quarters, east of the Kei, 8th May, 1835.

Now, my dearest old companion, comes the tug of war!

As I expected, but dare not previously say so, I am to be kept upon the frontier, Heaven knows how long! My Head Quarters are to be on the Buffalo, where there was a nice house, a missionary station. It has been burned, but as the walls stand it may soon be made habitable. Come to the welcoming arms of your faithful husband!

9th May.

On the Kei, ready to cross to-morrow, when a great ceremony will be performed, in proclaiming our conquered territory. The new boundary is to be the Kei. This is better than the T'somo, as the T'somo runs far too much in Hintza's country.

How I long to get to the Buffalo, to see where and how I shall build our house! Williams of the Engineers is ordered up with Sappers, etc., and that is to be his first occupation. We are going to found a town there, to be called William's Town; but this is a secret.

I fear this cunning rogue, Hintza, will give us some trouble ere we get the cattle. He is a shuffling scoundrel. I am making him go with me to-day on a bit of a tour. He says he can get the cattle if I can help.

God bless you, dearest woman; the pleasure I think on, dream on, is in some degree banished by a knowledge of the fatigue which you must undergo. God bless you! But when we meet we will forget all, and then, in light marching order, once more we will go together, together everywhere. As the old man campaigns so well, why should not the old woman?

ENRIQUE.

Fort Smith, 18th May, 1835.
On the right bank of the Kei, about seven miles from it.

Viva Enrique!

This is the 9th day, and I have not sent a word to my dear old wife. The hand of the Almighty God has been again upon me. Since I last wrote to you from the other bank of the Kei, I have made one of the most extraordinary marches ever made by troops, but I enclose a copy of my despatch.

One day (Mr. Hintza's, the scoundrel) was an awful one, I assure you. What with hunting him, and taking the cattle at night, I was rather done, I admit; but I had some mutton chops and coffee, and in an hour was fit again for a night's march. At three o'clock did I again set off on a venture. Though it was not successful as to bullocks, it had a fine political effect, that in three days from the bed of the Kei, a British force was in sight of the bed of the Umtata, etc.

Oh! if I could but describe the countenance of Hintza when I seized him by the throat and he was in the act of falling. A devil could not have breathed more liquid flame. I shall never forget it. I have his bracelets for you, and, what is more, the assagai he sent flying after me, as also his bundle. The pains I took to conciliate and treat kindly that savage! A pack of fox hounds would have followed me all over the world with a half of it, but such blackguards as these fellows are, cannot be described. They are the most determined and practised liars in the universe.

We do not march till the day after to-morrow, for all I can say and do. But being now within the Colony, it is quite ridiculous how much at home we feel. I had a long letter from Cox to-day. He has had an interview with Tyalie and Macomo, who are anxious for peace. I know not what they will think of our having taken possession of their country.

Poor man! what a loss Major White is to us all! He lived with me, poor fellow, and we were mutually much attached. I have told him a thousand times what would occur. I even on one occasion forbad his going with me, only he promised so faithfully to stay with the column. He is universally regretted.

19th May.

This day at 12 o'clock we liberated Kreili, Vadana, his uncle, Sotoo, a councillor, and Nomsa a councillor, and Piet Chingele, a half-Hottentot villain–Kreili having agreed to fulfil his father's treaty of peace.

We march to-morrow, leaving Warden with eighty Kat River Legion, one officer and twenty men, Cape Mounted Rifles, eighty of the 72nd Regiment, and one howitzer.

This is the advanced post of my command, and forty eight miles from my Head Quarters, the Buffalo or William's Town.

20th May.

Marched from the Kei, and arrived and bivouacked on the Gonoube Hill, above the river of that name, at three o'clock, and immediately chalked out a redoubt to contain fifty men; Lester, 72nd Regiment, to command.

21st May.

All the troops at work at daylight finishing the redoubt, which is named Fort Wellington.

May 23rd, Buffalo River, and our winter quarters, which
is to be called King William's Town.

The house, as I think I have before stated, has been burnt, but the walls and the chimneys are standing. We will soon, therefore, put a roof on to it, and it will be a snug little box enough. There is a capital garden full of fruit trees, young and flourishing: peaches, apricots, plums, apples, pears, some vines; very rich land, and ground enough to grow quantities of Indian and Kafir corn.

The site for the town is beautiful. The main road will run through it, and the river also. It will be perfectly magnificent.

The poor old Governor is so kind to-day. At dinner I asked Thomson where we could get rafters for the house. "Oh, we must cut them where we can." "No," says Master, "let the dimensions be immediately taken and I will send off express to Grahamstown for them." I felt this more than anything, because I often talk to him about you, and he saw I was pleased. He is a wonderfully good-hearted man, and wants nothing but a little more nerve.

I will soon have up more soldiers. We are generally to have here about 1200 men. I only hope so many will not be assembled as to induce Government to send out a Major-General to supersede me.

King William's Town, 26th May, 1835.

The old Master is all kindness to me. When he speaks of the new province, he always calls it "Your province." I shall also have the command of the whole of the frontier from Algoa Bay to the Kei, or I would not stay.

8 o'clock at night, 27th May.

Had a most beautiful ride to-day, and took 17 head of cattle. Two milch cows, worthy a place in my dairy, have been placed there, and two, less valuable, have been discarded. I have named three places–one "Kempt's Valley," another "Barnard's Vale" and "Ford," a third "Hotham Hill." I follow the bed of the Buffalo upwards to my estate. The road, which will be good, but is now a path, took us up to my estate and Murray Castle, where formerly I took 5000 head of cattle and on this occasion the present few. We crossed the river three times, all good fords but one, the stream most clear and beautiful, and each succeeding valley more calculated than the former for a village or a farm or anything. It is certainly a most beautiful country, this Province of Queen Adelaide.

King William's Town, 7th June, 1835.

MY OWN QUERIDISSIMA MUGER,

I returned to Head Quarters last night after a foray of eleven days, during which I have again, thank God, rendered my country very essential service and the enemy considerable loss. . . .

I mention all this to you to show how rejoiced I must have been on my return, after such hard labour, to receive your queridissima carta, telling me you were on the road, since the 4th June, Thursday.

11th of June, 8 o'clock at night.

His Excellency started very early this morning for Grahamstown. I have sent off Paddy Balfour to meet you, and my trusty ensign Low, with 20 of my most faithful Hottentots to accompany you, and never to quit your waggon. Paddy will also turn out 20 cavalry.

15th June.

I have had 30 men at work all day, and all the Artillery, poor fellows. The delight with which they do anything for me is quite amusing and gratifying, but I rather think all their labours are to please you, for I heard them talking of your nice house at Cape Town, and then to come and live here in a tent! The Scotchmen said it was "an awfu' change," and they all rubbed, and swept, and laughed, and I jawed, and gave them a glass to drink your health.

22nd June, midday.

Last night I would not write, hoping that by trying not to think quite so much of you I should not dream, and kick about so, and this morning I had so much to do I could not, but nothing would do. Oh, such nights as I pass! I really believe the sentry thinks I am mad, such questions I ask him. To-day it is raining like the deuce, so I am conjuring up flowing rivers again and 5000 impediments. How in the name of wonder did you get on when I was away from you? You had nothing to do. I to-day have plenty, but I can settle to nothing, and I am so irritable, I am quite ashamed of myself. I feel satisfied Balfour has reached you. This is a consolation to me, for I know he will exert himself, and take the greatest care of you, and he has been with me now long enough to learn how to overcome difficulties. God grant I may hear from Balfour to-day, and that to-morrow I may meet you at Fort Willshire.

24th June.

Surely this day we shall meet. Oh, such a night as I have had! I could neither sleep, nor toss about. nor dream, nor anything, but lie and listen, hoping every moment to hear the footsteps of horses crossing the ford, bringing me letters from you and Balfour, saying when–oh, when!–I was to be at Fort Willshire. Oh, such a merit as I make of it, when people ask me if they may go to fetch their wives! "D— it, sir, I cannot go for my own," although, poor fellows, I do so long to say, "Yes, you shall have leave." But it must not be. There is plenty here for every one to do yet, and for more too if we had them. I imagine your itinerary: the 18th, Uitenhage; 19th, Quagga Flats; 20th, Grahamstown; 21st, halt ; 22nd, Hermanus Kraal; 23rd, Willshire ; 24th —. Oh, dare I hope it, my own dearest, that this night I shall receive thee?
---
ADDRESS OF COLONEL SMITH TO THE CAFFER CHIEFS, 7TH JANUARY, 1836.
HAVING closely applied myself to become thoroughly acquainted with your wants, I have now lived long enough amongst you, my children, to observe them.
Field Commandants, Field Cornets, and Heads of Kraals–the Laws of our Country are rules established by the authority of its King, or Governor, and his Councillors, to direct the conduct and secure the rights of its inhabitants. You have all lately been received, at your own request and humble desire, and in the mercy of his Excellency the Governor, as British subjects, consequently are now governed by the British law, which, widely differing from your own, will require on my part some explanation, in order to point out to you the necessary procedure in cases where the interpretation of the Law, and its coercive power, is required. Having been placed over you by his Excellency the Governor as your Ruler since the day peace was concluded, and as he holds me strictly responsible to him to see justice duly administered to all–that the Laws are neither outraged, nor individuals oppressed or ill-used–so have I, since that period, as you all well know, watched over your rights and interests, for your benefit, so to govern you that gradually you might become so accustomed to our manner of proceeding, as to enable you to observe the impartiality with which the Law is enforced, falling equally heavy upon those who are its aggressors, rich or poor, black or white, and equally protecting all. I have therefore called together this large assembly, personally to explain to you, to the best of my ability, the mode you are to adopt as Magistrates when crime is brought under your observation, in conjunction with the British Resident.
Whoever it was among you who first suggested the idea of your becoming British subjects, deserves to be marked by you as a man who has rendered you the most eminent service. Did not your great father, Gaika, on his death-bed, assemble his sons around him and with his dying breath tell them to hold fast the word of peace with the English? This you did not do: what ensued? You were almost utterly destroyed, soon would have been annihilated, and driven from your native country; your women and children were starving, almost the prey of wild beasts, and the widows of 4000 of your warriors lament their husbands slain during the war; the greater part of your cattle starved or taken; your plunder, so treacherously seized from the Colony, lost to you from the robberies of others; you were in a lamentable, nay, a deplorable plight; you sought and asked for mercy–it was granted you. You also begged to be received as British subjects; this has been granted you, and you are now the subjects of the most powerful nation, whose laws, manners, customs, and institutions are the wonder of the world. This was your state when I took you "out of the bush," since which three moons have barely passed over your heads; land has been given you, your gardens are flourishing; your clergymen are returned to you, hoping to forget your sins in observing your penitence; a trade is established for you; your persons and property are protected by the equity of the British law–no man can now be "eat up," unless found guilty of crime, and condemned by your judges; and in place of being the beaten, the degraded, humbled, mortified people you were in the bush, you are taken by the hand, and called "brother" by the greatest nation under the protection of Almighty God. You tell me that you are naked and ignorant, that I must teach you to clothe yourselves, to know good from evil, that you are willing to learn, and that you wish to be real Englishmen. Mark me, then. Years ago the English were as naked as you, and ignorant as you, as cruel as you were in the late war; but the bright day which has opened upon you, dawned upon them; they first learnt to believe in the omnipotent power of Almighty God, who judges every man according to his actions; worshipped, honoured, and obeyed Him; they loved their neighbours as themselves, and respecting their property, ceased to be thieves; they believed all that the ministers of God told them; they sent their children to be taught to read and write; they learnt the use of money, and carried on an honest trade with each other, selling their skins, etc., and buying clothes as you see us all now dressed. Some were labourers in the field, some tended the herds and flocks, some made implements of husbandry, built houses, made arms, and every other thing you see your brother Englishmen possess; while others made laws to govern the whole, under the King, whom we all love. Thus civilization gradually advanced, while we became acquainted with the works of art; knowledge increased, we threw off the yoke of despotism and barbarism, cast away our vicious habits, and put to death or banished by the Law every one who by sin, crime, and wickedness was a pest and an enemy to society at large. Do you suppose that we have all these things by lying sleeping all day long under a bush? No; but by habits of daily industry, working as you see me do, and all the people around me, each day becoming wiser than the other: and by avoiding the evils of yesterday, striving to improve ourselves to-day. Such now may be your case, provided you cease to do the following things:–
I. First, to "eat up" one another. This is theft.
II. To murder or kill any one.
III. To believe in witchcraft. This is all folly and ignorance of the worst description. Did not Eno's "rain-maker" desire you to go to war, and encourage you by telling you that you would beat the English, the greatest nation in the world, whose power exceeds yours as much as the waters of the Keiskamma do the pools of the Penla rivulet? How dare the villain tell you such lies? Was he not the first man shot when the troops moved on Eno's kraal, after I came amongst you, and was then as much your bitter enemy as I am now your true friend?
IV. Perjury, or giving false witness against any one.
V. Setting houses on fire, and destroying property.
VI. Rape. And above all (having this day taken the oath of allegiance)–
VII. Treason, or lifting up your hand against the King, the Governor, his officers, magistrates, soldiers, and subjects.
The British Law punishes these crimes with death; by avoiding them we have become the great, powerful, and enlightened and happy nation you see, going about the world teaching others to imitate us, and we are now instructing you. Do you wish to be real Englishmen, or to be naked, and almost wild men? Speak, I say, that I may know your hearts.
* * * * * *
You have spoken well; your brothers will assist you. This day has his Excellency the Governor clothed your Chief Magistrates and Field Cornets according to their rank, to show you how England expects her subjects to appear. From this time henceforth no more presents of clothes will be given you; by trade (as we do) you must clothe yourselves, and look no more to me for presents but for some important and good service rendered to the State. Such I will reward, because his Excellency the Governor loves to reward merit. Since you have been under my protection the oldest men tell me there has been less crime than they ever knew: but this, though it pleases me, does not satisfy me. There shall be no stealing, one from the other; above all, from the King–or, as you would term it, the Great Kraal–the Governor or his people. Beware, I say, of theft, and as I protect you, so will I punish you, until the Law, by the rigour with which I will wield it, shall root out this evil from amongst you. Our clergymen will teach you what God expects from you, what you must do to expect God's mercy and love in the next world: thus you will all learn to love God. You may send your children to school, or you are wicked and base parents; and by your good example and speaking the truth, teach them what they may become with the advantages of an education, which you have not, and could not receive. Above all, do not despair or despond, or say, "We are poor people; we know nothing." Rouse yourselves: remember what I have told you, that the English were once as you now are, and that you may become what they are at present.
In the great change of laws by which you are now governed, one of the most important is that of not tolerating your being "eaten up." Now, this protects the weak; the strong from time immemorial possessed amongst you this power, which custom made a right of the Chief, though it was a curse to you: do not therefore suppose that the English Law while it protects one part injures the other. No, such is not the case; your Chiefs who from custom possessed this power by which their kraals were filled with cattle, and by which they were enabled to reward those who performed good service, must, your merciful and provident governor says, receive an equivalent; besides, being now your magistrates, much of their time and attention will be taken up for your advantage. You must therefore contribute to their support and dignity.
A regulation is now framing that each kraal pay so many cattle or calves in the hundred annually to each other [each chief?] on the day the ox is paid to the King of England for the land which you possess, and which he had conquered from you. No time will be lost in carrying this arrangement into effect. Thus you see, Macomo, Tyalie, Umhala, and the others of your kindred who from birth possess rights and privileges, you will be hereafter amply provided for.
To the heads of kraals and villages do I now address myself.
You are responsible for the good conduct of the people of your village; if you exert yourselves and do your duty, crime will be checked and ultimately stopped. No man ought to be absent without your knowledge. No man can return with cattle or horses without your knowing it, and whenever a crime shall have been committed by a kraal, I will make the whole responsible to me, if they do not produce the offenders and the stolen property. You shall leave off this wicked practice of stealing from one another in the way you do; the English Law will make honest men of you–you shall not steal.
You must see that your people are active and industrious, that they work in the garden; it is the duty of men to work in the fields, not of women; they ought to make and mend your clothes and their own, and to keep the children clean, wash your clothes, cook your food, and take care of the milk. You well know from observation what work the English do, and what their women; this you must imitate, and not sleep half your time and pass the rest in drowsy inactivity; these things you must do, and you will soon reap the fruits of your labour.
Magistrates and all assembled! As you wish to be real Englishmen, you must observe their manners and customs in everything; and as you are rapidly ceasing to believe in witchcraft, and at the death of any of your friends and relatives (an affliction to which we are all liable) beginning to omit the witch dance and the burning your huts and clothes, so do I now call upon you to bury your dead, as you see we do, and not drag out the corpse ere the vital spark is extinct, and cast it forth for food for wild beasts and birds of prey–the thought, even, makes a Christian and a civilized man shudder. To the first man who has the misfortune to lose one of his relatives, if he decently inter him, will I give an ox How can you bear to see those whom in life you loved and cherished–your aged father, who taught you your manly exercises and provided you with food; your mother, who nursed you as a child, who attended you in your sickness, who for years watched over you, contributing to your wants or wishes; your brother, sister, nearest relation and dearest friends, dragged from amongst you ere dead, and thrown out to the dog? We English not only make coffins to bury our dead, but raise upon the spot where our dearest friends' earthly remains are deposited, monuments to perpetuate their virtues; and when wicked men whose lives have been forfeited to the offended laws of our country for any of the crimes which I have enumerated to you are buried (for we even bury them also), such spot is marked with the ignominy it deserves; and our youth, as they pass the tomb of the good man, have an example of the respect due to virtue set before them; or are taught to abhor the crime which merited an ignominious death by the wretched mound which marks the sinner's grave. Thus as you loved your relatives in life, so you are bound to cherish their memory, and deposit their mortal remains in their parent earth. Englishmen not only do this, but the clergyman prays over the grave, and these matters of moment connected with the immortality of your souls the missionaries will teach you when you attend Divine worship. But your dead you must bury, as I point out, if you wish to be real Christians and Englishmen.
At this great meeting let me impress upon you, that all previous animosities among yourselves be forgotten, and while the great English nation now regard you as British subjects and brothers, love your neighbours as yourself, fear God, honour your King, and the Governor, his representative.
---
EXTRACTS FROM SIR HARRY SMITH'S LETTERS FROM INDIA, TO HIS SISTER, MRS SARGANT.
Loodhiana, 12th Feb. 1842.
You must excuse, dear Alice, my referring you to Sir James's letter for information as to the tragedy of Cabool, but my labours now are great. He sent me such a character to give Lord Ellenborough. I had also a very handsome letter from dear Lord Fitzroy Somerset, saying his son was with Lord E., and he would thank me "to instil into him some of that chivalrous and gallant spirit which has been your guide in your military career."
Juana unites with me in love to you all, dearest sister, and if I am actively employed you shall not have cause to accuse me of a want of energy, pluck, or decision, with a jealousy of time, that thing of all others in war for which all great generals have been remarkable. "Time is everything in War," says Wellington, and daily experience verifies it.
HARRY.
I suppose you started, like a half-broken horse, when I told you I was driving four-in-hand. You will start again, I hope, when I say after having had the use of it since I have been in India, having driven it from point to point seven hundred and two miles of good roads and bad, I have sold it for £700. It is gone as a present to Shere Singh, King of the Punjaub at Lahore, the son and successor of old Runjeet. There's a bit of luck for you!
Simla, 3rd June, 1842.
MY DEAREST ALICE,
On the 24th May I received your letters of 31st March and 6th April. And while you wrote them full of that excitement and ardour for the fame of your country and the ambitious honour of your brother, he was quietly pruning rosewater trees, training jessamine, lopping forest trees, and improving his ways, like Cincinnatus, with this exception, I fear that in his case, there is no chance of being drawn from his retreat into activity and the service of his country.
It rejoices me to see the vigour with which the people of England always meet disaster and rush to its reparation with heart, hand, and pocket.
I am of the War Party. Money will overcome every difficulty, expended with economy and supported by energy and activity.
My Lord E. is now of a pacific turn, and, as I told you last month, our troops are ordered to withdraw.
Simla, July 1, 1842.
This L[ord] you have sent us as a Moghul, by the powers, he is an arbitrary boy, and veers about like a weather-cock. Maybe a wonderful scholar, but, rest assured, unless he materially changes, —, "The wind bloweth where it listeth," but terrestrial rulers must be guided by locomotive principles slower than steam-coaches.
Poor dear old Father! my heart aches when I think what age reduces us to. I inherit many of his noble ideas as to courage, I hope. His has been a wonderful career of strength both of mind and body. We unite in love to all. God bless you, dear Alice.
HARRY.
Simla, 7th Sept. 1842.
The great Lord arrived yesterday. The Staff and Commander-in-Chief were ordered to his Lordship's own house to receive him. I was the only person introduced. He came up in a most ready manner, shook hands, and said, "I am delighted to make your acquaintance, General Smith. I have heard a great deal about you indeed." I was very near laughing and saying, "I hope no harm," but as Great Moghul he is our king. He is a wild fellow, depend on it. His A.D.C.'s are all great friends of mine. I hear his Lordship prides himself on his military ability. It is more than my note and its continuation265are inclined to do. Oh, the grievous procedure since November last!
Simla, 15th Oct. 1842.
You will rejoice to learn that Lord E. has taken a great fancy to me and treats me quite as an old friend. Upon the receipt of any news of importance he will run down to my house to tell me or write a note. I have had frequent long conversations with his Lordship. He has a perfect knowledge of the affairs and state of India and the mode to preserve it, and, although he jumps to very rapid conclusions, they are usually just and accurate, therefore cease to be classed as errors.
I have done two or three military things for him with which he was highly satisfied, and in the military shows and spectacles he proposes for our camp at Ferozepore upon the return of the army at the Indus and the reception of the monarch of Lahore, Shere Singh, his Lordship tells me I must be prepared to assist him.
. . . Once more adieu, dear sister. How I long once more to visit my native land! What a period of banishment has mine been! Out of thirty-seven years' service, I have only been six in Great Britain, five of that in Scotland.
Ferozepore, 15th December, 1842.
MY DEAR ALICE,
It is not often I complain of a want of time, but I may venture this mail to do so, such humbug, as well as serious matters, am I engaged in. Our Moghul is non-compos, as sure as eggs are the produce of fowls, with all his pomp and trash, to meet an army of imaginary victors.
Loodhiana, 17th Jan. 1843.
Our Moghul is mad, undoubtedly–a species of military madness, of pomp, ceremony, renown, and it is incredible to what an extent of frenzied excitement he has worked himself up. Among other acts of extraordinary folly, so at enmity with the cause of Christ and so calculated to sow discord between Hindoos and Mussulmans, is his dragging these old portals about called the Gates of Somnauth, a temple which once existed, but is now a Moslem ruin. He conjured up in his imagination that Hindoos would flock in myriads from every quarter of pagan India to sacrifice at the holy shrine of these memorable portals, whereas not a votary of Brahma ever, even out of curiosity, came to look at them, their history being obsolete among an ignorant people. Mussulmans are indignant at this attempt to degrade them in the eyes of those whom their swords subdued, and the holy Cross of Christ stands appalled, while all Christians shudder at this sacrilegious attempt to perpetuate the barbarities of Paganism by contributing towards its maintenance. The attempt has, however, been as futile as monstrous. Our course is not one to sow discord amongst those we have conquered.
Our united love to poor old Father and you all.
HARRY.
Simla, June, 1843.
MY DEAREST ALICE,
The state of poor dear Father from your description is melancholy indeed. "Yet is their strength then but labour and sorrow." Poor old man! an iron though never over-robust frame has enabled you to endure much, to struggle against difficulties, to contend with excitement, and to bear great bodily exertion. God's will be done! All things must end, and our only prayer ought now to be, however painful the blow we must anticipate, "Lord, now lettest Thou Thy servant depart in peace." And we must add, "Almighty and most merciful Father, grant that he may receive Thy salvation." "Beats the strong heart, the less the lips avow." Heaven bless him!
Our m–d Moghul has started from Agra to Calcutta by order, we hear, of the Court of Directors. He therefore may be regarded as en route to Downing Street to encore his "song of triumph." He is a fickle fellow, but has told me twenty times, "The moment I am not fully supported from home, I go." He was always very kind to me.
Allahabad, 9th Aug. 1843.
A wish was expressed by Sir J. Nicolls, as also by Sir H. Gough, that I should proceed to meet the latter in Calcutta. In three days after the receipt of this wish, I and Juana started dâk, as it is called; that is, in a wooden box, a palanquin, somewhat like a giant sailor's trunk, borne on the shoulders of four men by a pole projecting fore and aft with four other men to relieve them, eight to each palanquin. The eight men are again relieved at about ten-mile stages. The pace is not rail-road; it averages three and a half miles per hour.
The heat we endured until we reached Delhi cannot be described. After that we got through the greater part of our day's work by night; from hence we shall steam it, and complete a journey of 1300 odd miles.
Calcutta, 10th Sept. 1843.
I like my new master much, and with his Irish heart he appears readily to warm to me. He is very much delighted at my exertion to join, but I am cruelly worked just now, writing from four o'clock every morning till dark, then dinners, parties, balls, etc., so that even my aptitude to labour must fail if our Staff did not relieve me.
18th Jan. 1844, Gwalior.
MY DEAREST ALICE,
As I know my welfare is one of your leading stars, I tell you I am all well, and likely to be decorated with the Star of Gwalior!
Our Chief is a gallant fellow, but no genius as a tactician on strategic principles, but he licked the foe and took every gun (56), right well served and every gunner bayoneted at his gun; while the Division under General Grey on the same day beat the enemy opposed to him, several miles distant from us, and took every gun he had (25).
The devils before us had the most pluck, though, by far.
You had a brother and two nephews in the field. Hugh's266 regiment was the most distinguished with General Grey. Indeed, theirs was the brunt of the battle, and the youth behaved nobly, all his comrades say. Harry's 267 corps was but little engaged, yet I saw the boy looking as cool as his usual placidity renders him. I had a most narrow escape. A cannon-shot contused my right leg and carried away my stirrup and leather, passing under the horse's chest. The force of the ball against the stirrup nearly threw the horse on his side. I thought my leg was smashed, so benumbed was it, but it was not cut. I never got off, nor until I could move my toes upon a return of sensation was I aware that my leg was whole and my stirrup was gone; the very leg I was wounded in years ago. Thank God, though still black, it is all right now. My horse, a noble Arab,268which I rode all day (my other horses, of course, being out of the way), had two slight wounds besides his miraculous escape from various round shot.
Among a set in India, it is the façon de parler that India could be kept with Seapoys alone. He who says this is a fool. They could not keep it, though transferred to them by England's best blood. There is on earth nothing equal to the "British soldier."
Now for your gratification. Poor dear Juana, who was on an elephant under the fire of cannon, is to be "Lady." Poor dear old wife, she has been very far from well for some time. The Commander-in-Chief, who is a very warm-hearted fellow, says he insures me the K.C.B., which will please you more than me. . . . We are also to have a brass star for every officer and soldier made out of the captured cannon, and as Juana is again a heroine, I want a gold star to be made at the jeweller's who makes mine, according to the sketch enclosed, which she would wear as a brooch, the enamel part representing the ribbon.
May God bless you all is the fervent prayer of all us stars of Gwalior!
Faithfully your brother,
HARRY.
As you have fancy in such things, make me out some sort of arms for approval; but I like my present crest of all things, as it resembles a game-cock; and remember I am Sir Harry Smith–none of your Henries.–H. G S.
Camp Umbala, 18 March, 1844.
MY DEAREST ALICE,
You must forgive me this post, but what with marching, my report going home, etc., I have a mass of papers and business on my table, which must be cleared to-day. For I never have one thing any one day that I do not finish; and my table every evening is as clear as an Indian sky. God bless you all!
HARRY.
Simla, 1 July, 1844.
DEAREST ALICE,
As to the shield, I prefer the one I returned. But we must have a better elephant. His hind legs are all wrong.
Now for the motto, which, believe me, I have not lightly chosen, and which I intend pertinaciously to adhere to–"Inter milites miles." As a boy, as I was a jawing fellow, I always had a great sway among my comrades: and progressively the truth neutralized the vanity of the assertion that I had ever been looked up to in my profession. Thus, "Inter milites miles"–"A soldier among soldiers." And, thank Heaven, I have served with soldiers.
Pray be sure I do not adopt or assume anything bordering on the preposterous or beyond the limit of decided right. Are you sure this Vandyked sort of a coronet is right for the lion to dance on? I wish that lion was a Rifle soldier; but I suppose that cannot be. I must fight for supporters. Then I would have a Rifleman and a 52nd soldier, the component parts of my gallant old Brigade in the Light Division. If the Rifleman could be put on duty, Brother Tom would correct his uniform and position. Your brother,
H. G. SMITH.
Rest assured all of you, no honour is half equal to the love I bear you all in heart. I am the same
HARRY.
Simla, 1st July, 1844.
Lord Ellenborough's government has been one stamped with indelible proof of striking ability, exertion, zeal, and assiduity, but founded on no just and firm principles of future durability, establishing and altering things at the moment without reflecting whether for ultimate benefit to posterity. Such innovations in established government require a gradual introduction, and must not be prematurely forced if they are to be a wholesome fruit and for the welfare of such a vast and heterogeneous nation. He saw clearly many existing errors, many practices which required reform or were capable of amendment; but jumped to such rapid conclusions that in the most instances the remedy increased rather than alleviated the evil.
India is an ancient and peculiar country, replete with prejudices and bigoted to custom. The introduction of any change requires to be gradual to effect a benefit. Such benefit his precipitancy usually defeated. The complicated systems of modern governments obviously found their origin in those simple forms of patriarchal rule not as yet in the East obliterated. Laws must be adapted to the people; their nature must be gentle and calm, and not marked by any outward appearance of strong feeling. He was elated in success beyond all bounds of moderation, in reverse depressed below all conception, in difficulties wavering and undecided; thus evincing a want of that moral courage without which, in situations of great responsibility, the most consummate ability and zeal are useless, and a straightforward, bold, and plodding fellow of very inferior talent makes the better governor. In the military execution of a large portion of his duty his zeal for the nominal welfare of the soldier has been unbounded; but it must not be regarded as illiberal or uncharitable if I remark that this appears to be founded on a personal vanity which has acquired for him the appropriate soubriquet of a Brummagem Napoleon. With great affectation of liberality, accompanied certainly by several such acts, he has shown a miserly parsimony a great governor should avoid,–just, probably, in principle or founded on rule; but such a principle (however anomalous the assertion) must bend to circumstance in all states, whether in the civil or military branch. Hence my lord drove the Seapoy army into mutiny by an indiscreet exercise of what I admit was a right, but one which the Seapoy did not understand under very trying and peculiar circumstances, and in the midst of this mutiny moral courage was wanting. By conceding the pecuniary point, mutiny in that army of mutineers had been reduced to implicit and unqualified obedience. The matter was unadvisedly smoothed over, and the strong goes to the wall. Militarily, too, my lord had another awful fault: one which, had he continued long enough as Governor-General, would have sapped the true base of discipline that every soldier must look up to the authority placed immediately over him, and all to their Commander-in-Chief. Whereas he would correspond with officers commanding regiments, even with individuals; would frame orders which were indeed within his legitimate province, but which etiquette, or, what is a better reason, common sense, demands should be previously submitted to the Commander-in-Chief, for an opinion as to how they would work; would appoint officers to civil departments without any reference to their military character for rectitude, or whether they could advantageously be spared from their regiments. Thus it was evident that the fundamental principles of good government were not respected, and, while these interior errors existed, external ones of great magnitude were in operation; but these require more time to dwell on than I can bestow. As a whole, Lord Ellenborough's administration will be extolled by the home government. He can speak, and will well defend himself. He has some great acts to boast of (whatever their intrinsic merit) which will so eclipse the apparently little ones I have recorded (which still are the component parts of one great whole, like wheels in a watch) that he will be deemed a noble martyr and become ere long President of the Board of Control. India will be the gainer by his removal and by the man (if I mistake not) who succeeds him, my old friend Sir Henry Hardinge. By way of summary of my lord's character. An excess of vanity, and contempt for the opinions of others or their feelings, but, as with many a man, not naturally a bad heart where self-interest and aggrandisement are not the controlling powers. In early life he had not been taught to withdraw his thoughts from self-will and to fix them upon the dictates of conscience, to watch narrowly the rapid movements and changes which take place in all men's ideas, to form distinct notions of the intellectual faculties of others and the result and operations of his own acts. Had such been the case, it is more likely he would have acquired just habits of thinking and been more accustomed to analyze his own feelings and trains of thought. If a man of his great capability and powers of reasoning be placed in early life in minor situations of responsibility, and thus be afforded opportunities of observing the diligence and aptitude for industry of those around, and subsequently succeed to supreme authority, he has acquired an indispensable quality–that of giving every one his meed of credit, until he has displayed inefficiency or incompetency. In the profession of my lord's father 269 every man is innocent until found guilty, but with our "Law" every man was guilty who ventured an opinion in variance with his own. Lord Ellenborough has been very kind to me, and as I ever feel for any man under a visitation, so I do for him, and I have written to him.
Simla, 12th Sep. 1844.
MY DEAREST ALICE,
What do you think I have been at work at for the last month? Some memoirs of my life and Juana's and my adventures–all from memory. I have got into Jamaica, and have written nearly 400 pages of closely-put-together foolscap. Will you like to decipher and correct it? It will be done in a fortnight–that is, the rough; for as yet I have never read over one sheet I have written, but rushed ahead as water finds its level. There are a variety of stories and events in it.
The new Governor-General is winning golden opinions by his deportment and the regularity with which he transacts business. He says in his letter to me the labour is incessant, much of it trifles which ought to be settled in the departments they belong to. He has hit off one of the great evils of this government pretty quick evidently. The rumour here is very general that, Sir Hugh Gough not having taken the hint to make way for Sir Henry Hardinge, it will be renewed in a less evasive communication. If he be made a peer and they give him the pension as in the case of Lord Keane (my dear old friend who is fast decaying), I am of opinion Sir Hugh Gough would willingly return to his native land, covered with honours, wallowing in wealth, possessing a good heart, a gallant hand, and no —.
It is wonderful how fortune adheres to some men, and supplies all the deficiencies of nature.
You addressed a letter to me the other day "Sir Henry." My name is and shall be Harry.
Simla, 15th October, 1844.
Well, I have finished the anecdotes of a very long military career from my entrance into the army in 1805 to the end of the campaign of Gwalior. It is a voluminous tale, containing upwards of six hundred pages of foolscap, written all over without margin in my beautiful autograph as closely as this paper, but I fear ten times as illegible. I have never read a page of it since my scrawling it over at full gallop, and wish you well through it. If I am to send it, great circumspection must be used as to names and descriptions of men and events, or they might do others an injury (which Heaven forfend) and myself too. Whether it may not be advisable not to print it all until I am on the shelf in our retreat or in my grave for the benefit of my widow remains for you and Sir James Kempt to decide on inspection.
I very much regret to say the new Moghul has begun his career as Governor-General in a very little, calculating way, as a banker's clerk might be expected to do; and all accounts from Calcutta agree in saying that he funks responsibility beyond conception, throwing himself into the hands of understrappers. This won't do for India. It must be governed by energy and decision. "Sic volo" like my lord Ellenborough. It would appear that if these two men's minds could be manufactured into one, the corn being preserved and the chaff scattered to the winds, then a Governor-General would be manufactured appropriate for the rôle. The Company servants, civil and military, are an exclusive race of beings and of all things must be controlled. There is now a sort of reaction from great control to concession and a seeking the opinion of others. I hope he is only studying his lesson.
I am sorry indeed to hear poor Nancy 270 has been unwell. God bless her, she was a wild, light-hearted thing once, like my wife.
Umbala, 14th Jan. 1845.
My book is in the hills. Harry Lorrequer would make a good story of it. You may ask him if you like, and let me know what he says of it. I ought to expect half the proceeds. It is a book that would take wonderfully. Suppress actual names. All my old comrades would speedily know the hero and heroine of the romance. I hope to return to my dear old wife by the middle of March.
HARRY.
Simla, 15th March, 1845.
Your description of railroads astonishes the eyes of a Whittlesea man. It is a very curious circumstance that one of the Romans' great roads ran down to Eastrey near Charles' farm, that is, between our two old fields, from which I have fetched up old Jack from grass many a time, and Charles' large farm (the Decoy is the name, I think). These railroads will have an effect on the world, whether for good or evil, and will change its population to one community, either saints or devils or a bastard mixture of both.
Simla, 1st May, 1845 (the Merry Month).
I have not a word of news to give you. Affairs in the Punjaub are like the waves of the sea, agitated more or less, but not by the wind, but the blast of the mutinous trumpets of the rabble army. I hope we may have a slap at it, because I rely upon Sir Henry Hardinge desiring to give me a command, which I firmly believe Sir Hugh Gough would not oppose, for I never got on smoother with any of my generals, and he is as warm-hearted a fellow as ever breathed, and does right and acquits himself manfully to the extent of the powers the Lord has bestowed upon him.
I am glad to observe the English feeling which strikes at so condemnable a system as that of opening letters. I would rather fight to put down a Revolution arising from private correspondents than cock a pop-gun to maintain so nefarious a breach of all public and private confidence. We are in danger enough from the Mesmerites telling us in a deep sleep what is going on in the next room (a three-feet wall intervening), without having recourse to the other side of a thin sheet of paper.
Juana's health is capital, thank God, but I am never half so well in the hills as on the plains. Nothing can be more beautiful than our situation, but I love the winter gallops on the plains as flat as the Bedford level.
Simla, 24th Aug. 1845.
By the last mail's papers, as well as by your letter, I see that dear Sir James Kempt was at the Waterloo Dinner, and I have this day written to congratulate him.
The way in which the Duke, dear old and modern hero, drank his health was truly flattering to Sir James and most gratifying to all his many and faithful friends. But I really wish some of the glories of the Peninsula were occasionally commemorated by such fêtes. Many of the battles are superior to Waterloo in the annals of the art of war; but not being succeeded by such momentous political results to all Europe (ah! to the world), they are suffered to dwindle into oblivion. Nor is there a medal on the breast of any cicatrized hero to hand down to posterity the glories and victories of the previous age. History to the educated will do it, but a few petty baubles in possession of the many families of Great Britain would ocularly demonstrate "My grandfather, sire, uncle, or brother achieved this in battle," and thus the courage and patriotism of the sire would descend on the son.271
Every ass in India is covered with medals, though the sum of his fighting does not equal one of our days. The battle of Salamanca was the most scientific the Duke fought, Vittoria in result the greatest, Talavera in slaughter equalled Waterloo, yet these names and many others are only seen upon the colours of regiments. My old corps, having no colours, has no record of its deeds.
As to writing to Mrs. Holdich, Lord alive, it gives one no trouble, especially when cheered by the happy feeling of doing right. I suppose a million or so of letters go through my hands per annum; one or two more or less is like a drop of water in the ocean or a hogshead in Whittlesea mere.
Headquarters, Simla, 1st Sept. 1845
Oh that I was in England, partridge-shooting!
MY DEAREST ALICE,
–Ah, what a bore! A note from the Commander-in-Chief to prepare a very heavy report, which will take me some hours, when I was anticipating a comfortable talk with my dear sister. With all my writing, however, half an hour makes little difference, although on the most conspicuous part of my writing-desk is pasted in large characters the tenth verse of the ninth chapter of Ecclesiastes.272
When shall I enjoy that liberty so pleasing, when emancipated from all the shackles and labours, bars, bonds, and tempers, which business lays on us, and which we have to contend with? Alas! memory takes us by the hand and leads us back to our early haunts, habits, and friends–the flower garden of other years–and points out all the blossoms we may never more behold, although in imagination as beautiful as ever. Still hope encourages us in such sweet sensations and sustains us in the belief there may be some years of quiet and recreation in store for us, surrounded by those we love, and eased of the labours of public life. Many of my old comrades say, "How could you, Harry, get on without something to do?" I laugh, for I am ever busy. I love books and gardens. I am as interested in the growth of a pet plant as in the results of my more arduous labours; and the charm of the word "home" often inspires me to exertion.
Now, dearest Alice, to my report. My head must be full of cannon, musquets, sabres, rations, tents, transport for baggage, sick, lame and lazy, shirts, shoes, pipeclay, tobacco, soap, etc., etc.
HARRY.
Left bank of the Sutlej, 28th Dec. 1845.
MY DEAREST ALICE,
Your old brother Harry has only a few minutes to say to you and his dear friend Sir James Kempt he has at length in India had an opportunity of distinguishing himself as much as you both could wish, in the three most sanguinary conflicts with the Sikhs, and he with his own hand, the first man in, planted the colour of H.M.'s 50th Regiment on the walls of the headquarter village from which the great battle was named, Ferozeshuhur. A bloody fight it has been, as you will see by the papers. I was with the old 50th hand to hand in their trenches when four battalions of Avitabile's (so called from having been drilled by that officer) bore down in furious onslaught upon my Division which I now command–two Brigades, H.M.'s 31st and two Native Regiments in one, the 50th and two Native Regiments in the other. In the affair of the 18th my Division took twelve guns and a howitzer; in the great battle, three fine standards; and on the 22nd my Division made a furious charge and completed the victory. I was placed on the night of the 21st in a most critical and perilous position in the very middle of the whole Sikh (though beaten) army, completely surrounded by thousands, and at three o'clock succeeded in drawing off my troops, and received the thanks of Sir H. H.: "Smith, it was your boldness and audacity that saved to us the victory." Poor old General Sale asked leave on the 18th to serve with me. I gave him a Battalion, at the head of which he received his mortal wound. Our loss has been as great in proportion as in our most bloody fights in the Peninsula. All my Staff were wounded, A.A.G. and A.Q.M.G. in two places. My A.D.C., Eliza Holdich's son, wounded in the hand, one horse killed, one wounded. Myself and my horses escaped, with the blessing of Almighty Providence, without a scratch. I was in the saddle from half-past two on the morning of the 21st to four o'clock in the afternoon of the 23rd. My dear, dear gallant young friend Somerset received his mortal wound close to me, and fell in my A.D.C.'s arms. Tell Sir James I will send him next mail copy of my report; this, I cannot. I have no clerks as when A.G. Dear Juana is at Meerut, thank God, well out of the way. Your old humbug of a brother's name up in the army, I do assure you, especially with Sir Henry Hardinge and Sir Hugh Gough; Sir H. H. treats and takes and asks my opinion for as much as it is worth, as my dear, dear friend Sir James would. Heaven bless you, I know this will gratify you and Sir James. So I send this on a thick scrawl of paper. I have not time to read it over.
HARRY.
Camp on the Field of Battle, Aloowal, 1st Feb. 1846.
MY DEAREST ALICE,
I have only one moment to say I have gained, in a separate command of 2700 cavalry, 32 guns, and 9000 infantry, one of the most glorious battles ever fought in India, driving the enemy over the Sutledge double my numbers, posted in an intrenched camp with 75 guns, 52 of which are at my tent door, the others lost in the passage of the river, or spiked in its bed. Not a gun did they get over. And oh, the fearful sight the river presents! the bodies having swollen float of men, horses, camels, bullocks, etc. Thousands must have perished, many threw away their arms and fled headlong into the broad river and difficult ford. They had about fifty large boats, which added to the confusion. Some of them were sunk, my thirty-two pieces of cannon pounding them all. Never was victory more complete and never was one fought under more happy circumstances, literally with the pomp of a field-day; and right well did all behave. I brought well into action each arm as auxiliary to the other, but see my dispatch, which will be published as soon as you get this. I have not a moment to write. Send this to dear Sir James Kempt, and tell him my being thus distinguished I owe entirely to his friendship and good opinion of me. Send this to him, for I have not a moment to write.
Your brother,
HARRY.
To W. M. Ford, Esq., Staff Surgeon, Chatham.
Headquarters, Simla, 4th May, 1846.
The enemy we have had to contend with lately are proper varmint fellows, and had they been commanded by Massena's, Ney's, Soult's, Augereau's victors, they would have made us look sharp to have victor'd them. I never saw men shot out of trees before. At Moodkee the bold rascals got into trees, shot our fellows in the rear, at first without our knowing where the shot came from, but when we discovered the where, it was the most extraordinary thing I ever saw to see half a dozen fellows out of each tree come rolling down like cock pheasants or capercailzie. When repulsed from their guns and position, they would sometimes throw down their musquets and come on sword and target (they all carry excellent swords) like antient Greeks.
---
SIR HARRY SMITH'S RECALL FROM THE CAPE.
A. Copy of a Despatch from Earl Grey to Governor Sir H. G. Smith, Bart., G.C.B.
Downing Street, January 14, 1852.
SIR,
I have received and laid before the Queen your despatches of the 5th and 19th of November, reporting the results of the operations of the war since the date of your despatches by the previous mail.
2. I learn from these despatches that another month of this distressing warfare has passed away, and though the force at your disposal had been increased to a very considerable amount no advantage of any real importance has been gained over the enemy, while the loss of Her Majesty's troops has been exceedingly heavy, that very distinguished officer, Lieutenant-Colonel Fordyce, being included among those who have fallen.
3. I have said, that no real advantage has been gained, because, while you state that positions of extraordinary strength have been stormed, and it is clear that the most determined courage has been shown by Her Majesty's troops, these successes (if they can be called so) have been entirely barren of useful results; and it appears from the reports of Major-General Somerset, and particularly from his despatch dated the 9th of November, that the ground thus hardly won could not be retained, and that the position which was carried at the price of such heavy loss to the 74th Regiment on the 6th of November, was only held until the Major-General "withdrew the troops in the afternoon," when it would seem that there was no obstacle to its being re-occupied by the enemy, and that in fact it was so.
4. For several months your despatches have been of a similar character. You have described to me operations which I have constantly been assured had been attended with success, and had inflicted heavy loss upon the enemy, while there could be no doubt that the troops had fought with their accustomed gallantry; but at the same time I was quite unable to discover that any ground had really been gained, while it was obvious that the enemy, far from being discouraged by their supposed defeats, were from month to month increasing in boldness and determination; and the lists of casualties but too clearly proved that the loss they had inflicted was at least as certain, and bore no small proportion to that which they were believed to have sustained.
5. It was impossible that I should continue to receive intelligence of this description by many successive mails without being led to entertain very serious doubts whether the war had been conducted with the energy and the judgment which were necessary to bring it to an early and successful issue; but distressing as was the anxiety which these doubts occasioned, I have not hitherto allowed them to induce me to deprive you of that support which I know it is of the utmost importance to the public service that those in high military commands should be able to rely on not having lightly withdrawn from them by the advisers of the Crown, when, in situations of difficulty and danger, success does not at once attend their exertions.
6. But the information I have now received has converted what was before only a very serious doubt, into conviction; and it is my painful duty to inform you that having consulted my colleagues on the subject, they have concurred with me in coming to the conclusion, that upon a careful review of the events of the war and those which preceded its breaking out, there is evidence, which it is impossible longer to resist, that you have failed in showing that foresight, energy, and judgment which your very difficult position required, and that therefore we should not be justified in shrinking from tendering to the Queen our humble advice that the Government of the Cape of Good Hope and the conduct of the war should be placed in other hands. It has accordingly been my duty to submit to Her Majesty my advice that Major-General Cathcart should be appointed to relieve you, of which Her Majesty has been pleased to approve, and that officer will very shortly proceed to the Cape for that purpose.
7. I need hardly assure you that I cannot make this communication without great pain and sincere reluctance, and that nothing but a sense of imperative duty would have led my colleagues and myself to take the course we have felt ourselves compelled to adopt.
We do full justice to the ardent zeal for Her Majesty's service which you have uniformly displayed, we have not forgot how greatly you have distinguished yourself on former occasions, and what a high military reputation you have deservedly obtained; but we have been compelled to believe that, perhaps from the failure of your health, and your being no longer able to exercise as close a personal superintendence as formerly over the conduct of affairs, you have failed in giving either to your military operations or to your political measures bearing upon the war, that character of vigour and judgment which are necessary to inspire confidence in the inhabitants and troops, and to command success. I must remind you that the first error which was committed, and to which I believe the failure of a policy otherwise sound, and the calamity of the war, are mainly attributable, was the premature reduction of the British force under your command. I must take upon myself a share of the blame for this mistake, inasmuch as I had probably too often and too strongly pressed upon you the importance of reducing the number of troops as soon as this could be safely done. Still your discretion was unfettered, you were left to decide for yourself when the troops should be sent home, since this was a point on which a judgment could only be formed on the spot; and the error, therefore, was your own of supposing that a large proportion of the force which you found in the colony could without danger so soon be dispensed with.
8. I must also remind you, that up to the eve of the actual breaking out of hostilities you continued to send me the strongest assurances that there existed no real danger, and that the apprehensions expressed by the frontier farmers were unfounded. Even when the war began, you were so little aware of its true character that you made no application to me for additional force; and neither in your public nor your private letters did you give me the slightest intimation that such aid was required; and the reinforcements, which were immediately despatched, as well as those which have been subsequently sent, have all, with the exception of the last, anticipated your demands for them. It is not for me to express any opinion on the detail of your military operations; but it must strike even an unprofessional observer, that by the employment of means which you considered adequate for the purpose no serious impression appears to have been made on the enemy. It follows that you have either been entirely mistaken in your judgment, and have consequently led Her Majesty's Government into error as to the character of the war, and the amount of force required; or else that you have failed in using with effect the force at your disposal.
9. With regard to the political measures bearing upon the result of the war, I must refer you to the despatch which I have been compelled to address to you by the present mail on the neglect of the precautions obviously required, in order to obstruct the supply of ammunition to the enemy. The fault in this respect must no doubt be in part attributed to the Colonial Secretary, whom you had left in charge of the Government at Cape Town; but if you had intimated to me that Mr. Montagu could not alone adequately discharge the arduous duties which devolved upon him in your absence, I should not have failed immediately to have afforded you further assistance, by the appointment of a Civil Lieutenant-Governor, to reside at Cape Town during the war,–a step I propose adopting, now that the necessity for it has thus been disclosed to me.
10. I must also observe, that you have, I believe, truly represented to me, that if you had had the Kafirs only to contend with, the war would long since have been brought to a close; and that what has made them such formidable enemies has been the assistance they have derived from the rebel Hottentots, too many of whom had been trained as soldiers in the ranks of the British army. But if this is, as I believe, a correct view of the subject, I must regard it as a most fatal error that the first instances of treason amongst this class of the inhabitants of the Cape were not dealt with more promptly and more severely. I cannot resist the belief that, had this been done, the contagion of disaffection would have been stayed, as the prompt punishment of the real traitors would have calmed the fears naturally excited amongst the white inhabitants by seeing their impunity, and would thus have prevented the colonists of European descent from being led to entertain and display that indiscriminate jealousy of their coloured fellow-subjects, which has been, as there is too much reason to fear, the means of driving into disaffection many of the latter who were not originally inclined to it.
11. Lastly, I must regard it as a grievous error that you have allowed the administration of the Orange River Territory to remain too long in the hands of an officer in your own opinion unequal to the task, and that by this and other mistakes in your management of the Dutch inhabitants of the frontier districts, you have failed to conciliate that important class by whose cordial co-operation there can be no doubt that you would have been enabled to bring the war to a much earlier termination than there is now a prospect of; while, on the contrary, by the distracted condition of the Sovereignty, your difficulties in Kaffraria have been very seriously increased. The manner in which, by judicious management, Mr. Pine has succeeded in Natal in securing the confidence and attachment of the Dutch farmers, as described in your despatch No. 193, clearly proves that, if properly treated, they may be rendered loyal and useful subjects of the Crown.
12. It has been with much reluctance that I have entered into this review of the errors which you seem to me to have committed, but I have thought it due to your position and to your high reputation to show that Her Majesty's servants have not determined to advise the Queen to supersede you in the midst of the war without sufficient cause for doing so; and for this reason, painful as it has been to me to write to you in such a tone of censure, I have been compelled to point out the errors into which you have been betrayed. It is, however, some satisfaction to me to be able to add, that I have no doubt it has been your judgment only which has been in fault, and that, to the best of your ability, you have endeavoured to acquit yourself of duties of no ordinary difficulty; nor do I doubt that in more regular warfare against a civilized enemy, and if your military operations had been less complicated by political difficulties, you would have achieved the same success by which you had formerly been so much distinguished.
I am, &c.
(Signed) GREY.
Lieut.-General Sir H. G. Smith, Bart.
B. Memoranda to serve as Data in meeting the accusations brought
forward in Earl Grey's Despatch of the 14th January, 1852.273
Camp Blinkwater, 12th March, 1852.
1. I am not aware that the not bringing a war to a speedy conclusion with inadequate means is a proof of incompetency in a General, nor even when his means and those opposed to him are nearly balanced. It rather argues the strength and prowess of the enemy. History affords many instances of long and protracted wars, conducted by men of consummate ability, who constantly had occasion to report the result of glorious and sanguinary victories which, however immediately successful, did not do more than merely lead to the conclusion of the contest. I have had to contend with, I may say, an invisible enemy, hardly ever to be met with in an assailable position. In other wars to which I allude officers of rank may have fallen, but their fall, however greatly to be deplored, was not considered of importance in connection with the conduct of the campaign. The loss of Lieut.-Colonel Fordyce I much regret. He showed himself with his telescope outside the bush and was picked off by some skilful Hottentot–a chance which might happen to any soldier. The other officers who rushed to aid him fell under similar circumstances. I am at a loss to understand how casualties of this description can attach culpability to the General. If every General Officer were removed from his command because his career was not a continued current of success, not one would retain it. In the instance immediately in question I assert that the troops were eminently successful, their success enabling me to carry operations into a distant part of the country, the important result of which best speaks for itself.
2. Earl Grey attaches blame to me for not having given the necessary "vigour and judgment" to my military operations, or to the "political measures bearing upon the war." A reference to my detailed instructions to the officers in command of the constant patrols will, I think, sufficiently show that the movements of the troops have been carefully watched over and well directed. I am not aware that it is the duty of a Governor and Commander-in-Chief to head patrols. On one critical occasion, when a vigorous personal example was required, when it was necessary to show that I was regardless of the sudden and extensive desertion in the Cape Corps, I hesitated not for a moment to take the field in person, in direct command of a large patrol; and by some rapid and completely successful movements not only restored full confidence throughout the army, but in all probability arrested the further spread of disaffection. But although this energetic and decided step upon my part was at the moment called for, and although in former days as Colonel Smith I led patrols under the late Sir Benjamin D'Urban and gained some reputation as a bush fighter, my position as Governor and Commander in-Chief and the interests of Her Majesty's service directed me to place myself at some central point, from which the general movements of the troops could be best controlled and the duties of the Civil Government equally administered. Neither of them were ever delayed a single day. For this purpose no position could be so advantageous as King William's Town–the base of general operations, the very focus of all movements.
3. Earl Grey states that I have failed in using with effect the force at my disposal. I have some experience in war, and I assert that no body of Her Majesty's troops was ever more energetically applied under more appalling circumstances of difficulty; and none were ever more successful. And although the troops have been so unceasingly and energetically employed, they have suffered no privation, so well have I cared for their provision; while at the same time so rigid has been the economy I have observed and enforced, that many thousands of pounds have been saved to my country. The comments of Earl Grey on my not having done as much with the force placed under my command as might have been done, would be very natural if such were in point of fact the case. But it appears to me His Lordship has not drawn this inference from my voluminous and explanatory despatches, nor borne in mind the dates of arrival of reinforcements; but has reached this conclusion through the medium of irritable disappointment, the flippant statements of indirect correspondence, and the garbled statements of the opposition newspapers. I will therefore analyse the mode in which these reinforcements reached me and their respective dates of arrival. It is perfectly correct that I never asked for troops until the war was far advanced and had assumed a much more formidable appearance than was originally anticipated. I then recommended that two Regiments of Infantry should be sent out in addition to those already arrived or on their passage. These had been already ordered, the 43rd Light Infantry being one, the 1st Battalion Rifle Brigade the other. I always reasoned that, as Lord Grey had so repeatedly and peremptorily directed a reduction of the force at the Cape, he would see the necessity, if he desired to retain British Kaffraria, of at once sending reinforcements. My reasoning was correct. I also relied upon a general turn out of the frontier population, and neither I nor any other man anticipated a Hottentot Rebellion.
On the 25th April, 1851, drafts for Regiments, amounting to 300 men, reached the Cape in the Singapore, Peninsular and Oriental Company's steamer. I landed them at the mouth of Buffalo. On the 12th of May, the 74th Regiment reached the Cape, after a passage of 58 days in H.M. Steamer Vulcan. I landed it at Algoa Bay, so as to move on the interior line of defence. On the 8th August the 2nd Queen's arrived, a period of 86 days having elapsed since they were ordered for embarkation, a delay which caused me great disappointment. I landed them at the mouth of the Buffalo, having been compelled to detach Lieut.-Colonel Eyre and the majority of the 73rd to within the Colony for the defence of Lower Albany and Graham's Town, a service which he most effectually performed.
On the 29th July I received authority to send to the Mauritius for the Reserve Battalion 12th Regiment. Commodore Wyvill, with his usual energy, placed H.M. S.S. Hermes, under that most energetic officer, Captain Fishbourne, at my disposal. She sailed from Simon's Bay on the 24h July, touched at the mouth of the Buffalo, received my orders to proceed to the Mauritius, and on the 27th August, with the greatest expedition, landed as I directed the whole Regiment at Algoa Bay, so as again to reinforce the interior line of defence.
On the 29th August, 200 drafts for Regiments arrived from England.
On the 19 Sept. the 60th arrived, after a very tedious passage of 66 days in H.M. steamers Retribution and Sidon; and were landed at the Buffalo. At the same time a detachment of the 12th Lancers arrived after a passage of 76 days in the Berkshire Transport. The head quarters and remainder of the 12th Lancers did not arrive until the 4th Oct., after a very slow passage of 91 days. The horses for the Regiment were in readiness at King William's Town. The whole of the troops were in the field on the arrival of the 60th, which Corps also marched in three or four days, that is, as soon as they were able after their long voyage. I am not aware that any delay occurred in the application of these reinforcements, which were, on the contrary, employed in the most energetic manner; and, as results prove, with military judgment. Yet before their services could be well felt, Earl Grey relieved me from my command, because Lieut.-Colonel Fordyce, a very gallant officer, placed himself, to look through his telescope, within shot of a paltry ambuscade of Hottentots.
After I had invaded Kreili's country, the 43rd Light Infantry arrived. They were sent immediately into the field as an escort of provisions to Forts White and Cox by way of initiation; and on their return were at once moved on the Kei in reserve and support.
It was intimated to me that the 1st Battalion Rifle Brigade would, as one of the Regiments I had asked for, be immediately sent out. So great, however, had been the delay, that I wrote to Earl Grey saying that our successes against the enemy were such, that if this Corps had not left England I did not then require it. A few days before I was relieved it reached the Cape after a passage of eighty-four days. I ordered it to Algoa Bay, thence to the Blinkwater, to preserve that country, which I had just cleared, from any reoccupation by the enemy. This was the only service I had for it; and as it had not arrived two months previously as I had expected, I deeply regretted its having left England. In the then state of affairs it was not required. I appeal to every General Officer in H.M. Army if more could have been done, and I turn to my own local experience, and cast aside the theory of abstract and disappointed expectations.
4. With respect to my "political measures bearing upon the war," my conviction is that my central position at King William's Town–the best in a military point of view–enabled me effectually, by personal care and supervision, to preserve the neutrality of the formidable T'Slambie tribes, who, had I been absent, would assuredly have joined in the revolt. No man was ever surrounded by greater embarrassments; but in the midst of them I preserved my position.
5. Earl Grey alludes to the state of my health. It is assuredly not so good as it was twenty years ago; a half-century of unremitting service in every quarter of the globe must naturally have made some inroads, but no measure of government, civil or military, has ever, from this or any other cause, remained neglected for one moment.
6. Adverting to Earl Grey's remark as to the premature reduction of the force, in which he confesses to participate in the blame (if there be any), I must observe that he most emphatically urged the measure upon me, desiring my reasons for delay in the event of my not carrying it into effect. I could more honestly, at the moment, reduce the force than give reasons for not doing so. I am now censured for having met the views of Her Majesty's Government.
7. Previously to the outbreak, I undoubtedly sent continued assurances to Earl Grey that no real danger existed. I believed what was brought before me by the officers directly associated with the Kafirs. I could myself see nothing on the part of the people indicative of a hostile feeling. If I have been deceived, Europe in the present age affords various and similar examples. Upon the first outbreak of the war, I was certainly ignorant of its real character. No one apprehended the rebellion of the treacherous Hottentots. And had the burgher population turned out, as I had every reason and right to expect, it would have never taken place, and the Kafir rebellion would have been quelled at the outset. Opinions after results are easily and may be decidedly given.
8. As to the supply of firearms and ammunition, and the want of energy imputed to myself and to the Secretary to Government in suppressing their introduction, a reference to my despatches will show that all that was possible was effected.
9. Earl Grey proceeds to regard as a most fatal error my having failed to deal more promptly with treason on the part of the Hottentots. My position at the time referred to was one, I believe, of as great difficulty as man was ever placed in. The whole Hottentot population at that period had been taught they were an "oppressed and an ill-used race," and that the precepts of Holy Writ tolerated their seeking redress by arms. Some thousands of them were in my camp, with a few hundreds only of British soldiers; while General Somerset was surrounded by Hottentots. When evidence was forthcoming, I proceeded to military trial. But I must advisedly assert that had I, at that period, executed the condemned, the torch of revolt would have blazed throughout the Colony. I am regardless of an opinion to the contrary advanced by any man. I assert as an undoubted fact that by my course of proceeding I weathered a storm which would otherwise have burst over me with irresistible fury; that the exercise of sound discretion in this instance saved the Colony; and that a contrary course would have ruined it. To strengthen this assertion, I desire to remark that a few weeks only have elapsed since the legislature of this Colony was deterred from passing an ordinance for the prevention of "squatting" on Government lands, a very general impression prevailing that the Hottentot population would arise to resist it. In the course of enquiry facts will show the difficulty of my position, and bear me out in my line of proceeding; in the correctness of which I rejoice, and shall do so to the latest period of my existence, reflecting that sound judgment saved the colony. The white inhabitants were very naturally excited by the treachery of their Hottentot servants, and jump to the conclusion that hanging a few would have been a sovereign panacea. I know as much of the Hottentot character as most men; and the contrary, I say, would have been the effect.
10. Earl Grey regards it as a grievous error that I have not removed Major Warden. I honestly admit that that officer might have done better; I had, however, no one to replace him; and he acted zealously and to the best of his abilities. He is very popular with every well-disposed and loyal Dutchman. His Lordship proceeds to remark that by this and other mistakes (a somewhat comprehensive application of censure) I have failed to conciliate the Dutch inhabitants. I need not scruple to say that for many years I was most popular with them. Perhaps my too anxious desire to serve both those within the Colony and beyond the Orange River has been an error. Their not having turned out, as they pretended they were desirous to do, is attributable to no proceeding of mine; and if honesty of purpose and kindness of manner fail to conciliate, I am as irresponsible for the effect as incapable of seeking the good will of any one by other means. Earl Grey observes that Mr. Pine has succeeded in conciliating many of the Dutch inhabitants of Natal. The Lieut.-Governor acted upon my precedent and by my advice; and has repeatedly declared his perfect concurrence in the policy which I originated, which has led to the present contented condition of the Natal Boers.
11. In his concluding paragraph, Earl Grey states that he has entered into a review of the errors which it seems to him I have committed, regarding it due to my position and to my high reputation to show that Her Majesty's servants have not determined to advise the Queen to supersede me in the midst of these errors without sufficient cause. I have served my Sovereign and my Country, as few soldiers have had the good fortune to have the opportunity of doing, for nearly fifty years. During that long service I have never, until now, received the slightest censure. The difficulties which have surrounded me at the Cape of Good Hope have been unparalleled. Earl Grey might have awaited the result of operations which I apprized him were in progress and which have been attended with eminent success. However much it may appear to his Lordship that I have failed in using vigour and judgment, facts will speak for themselves; and exonerate a General from the stigma of deserving the greatest indignity with which he can be visited–removal from the command of a victorious army devoted to their Queen and Country and serving in the highest spirits and with every confidence in their veteran Commander.
True copy of recorded Memoranda.
JOHN GARVOCK, Lieut.-Col.
Late Priv. Sec.
---
SIR HARRY SMITH'S PATERNAL AND MATERNAL ANCESTRY.
---
| | | |
| --- | --- | --- |
| | [Index Omitted] | |
---
Notes:
244 In this and the following items, the story given above is repeated.
245 Afterwards married to Charles Smith.
246 Vicar of St. Mary and St. Andrew, Whittlesey, and cousin to Harry Smith's mother.
247 Query, 11th? See preceding letter.
248 I possess this document only in the form of rough drafts. The document as here printed is therefore to some extent a compilation. It is clear that the Board of Officers were proposing a more stringent treatment of prisoners than that which Harry Smith had adopted and which they maintained was more lenient than was permitted by the Royal Warrant.
249 Col. W. Johnstone was then living at Cape Town. See p. 58.
250 "My dearest wife!"
251 His house at Rondebosch, near Cape Town.
252 Major William Cox.
253 See p. 212.
254 I.e. tired of doing nothing.
255 See p. 737.
256 See p. 100.
257 "Knife."
258 I.e. soldiers of the Rifle Brigade.
259 I.e. brown, buckskin trousers (Munro, Records of Service, i. 205.
260 "A little oil and a clove of garlic."
261 Alexander has a picture of this scene, with others of the war, drawn by Major Mitchell, Surveyor-General.
262 "Do you remember, poor child?"
263 See p. 168.
264 "Nonsense."
265 See p. 476, sup.
266 Hugh Smith, son of Harry Smith's "Waterloo brother," Thomas.
267 Harry Smith, son of the "third Waterloo brother," Charles.
268 See pp. 673, 674.
269 Edward Law, Lord Ellenborough, Lord Chief Justice of England.
270 His youngest sister, Miss Anna Maria Smith.
271 The Peninsular medal was granted in 1847.
272 "Whatsoever thy hand findeth to do, do it with thy might."
273 I am not aware what use, if any, Sir Harry made of these "memoranda."
---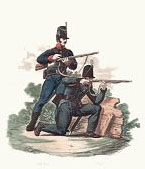 [Index Omitted]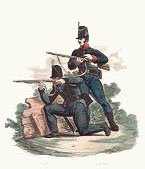 ---